You are here
Prince Hassan meets with experts, workers in agriculture sector
By JT - Sep 28,2023 - Last updated at Sep 28,2023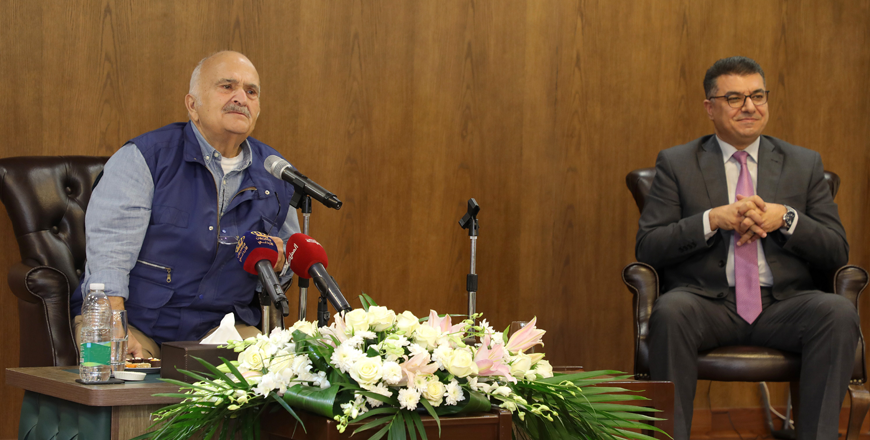 HRH Prince Hassan speaks during a meeting with several experts and workers in the agricultural sector at the Agriculture Ministry on Thursday (Petra photo)
AMMAN — HRH Prince Hassan, chairman of the Higher Council for Science and Technology (HCST), on Thursday met with several experts and workers in the agricultural sector at the Agriculture Ministry.
Prince Hassan, in the presence of Agriculture Minister Khalid Hneifat, stressed the importance of overlapping thinking for transforming development into agricultural achievement within the water-food-energy-environment system, the Jordan News Agency, Petra, reported.
The prince also said that the palaeoecology system of man and place is cross-border and cannot succeed without a comprehensive regional outlook.
He also called for making Jordan a smart station for climate at the level of data and networking, on the one hand, and cooperation to open partnership based on absolute knowledge, on the other.
Prince Hassan also said that human dignity is the focus, regardless of gender or age, as humans represent the true investment.
Hneifat said that despite the effects of climate change and the COVID-19 pandemic, Jordan has never suffered from shortages of any foodstuff. He noted that the Kingdom has always recorded and continues to record the lowest rates of inflation.
The minister also reviewed the major achievements of the national agricultural plan, noting that the agricultural sector accounts for 20 per cent of the national economy.
Executive Director of the Inter-Islamic Network on Water Resources Development and Management Marwan Alraggad reviewed the networks' projects in Jordan and its initiatives at the regional level to enhance cooperation among countries and transform challenges into opportunities.
Mohamed Abou Nar, regional representative of Pathfinder International, highlighted the importance of clean energy and environment-friendly projects to preserve a better future for the next generations.
Related Articles
Sep 27,2021
AMMAN — HRH Prince Hassan, chairman of the Higher Council for Science and Technology (HCST), on Sunday called for looking at development thr
Mar 13,2023
AMMAN — HRH Prince Hassan, chairman of the Higher Council for Science and Technology, on Monday attended the 13th International Forum of the
Sep 19,2022
AMMAN — HRH Princess Basma Bint Ali, founder of the Royal Botanical Garden, on Monday at Al Balqa Applied University (BAU) inaugurated the s