You are here
Prime Minister visits Greek Orthodox Archdiocese, extends Easter greetings
By JT - May 04,2021 - Last updated at May 04,2021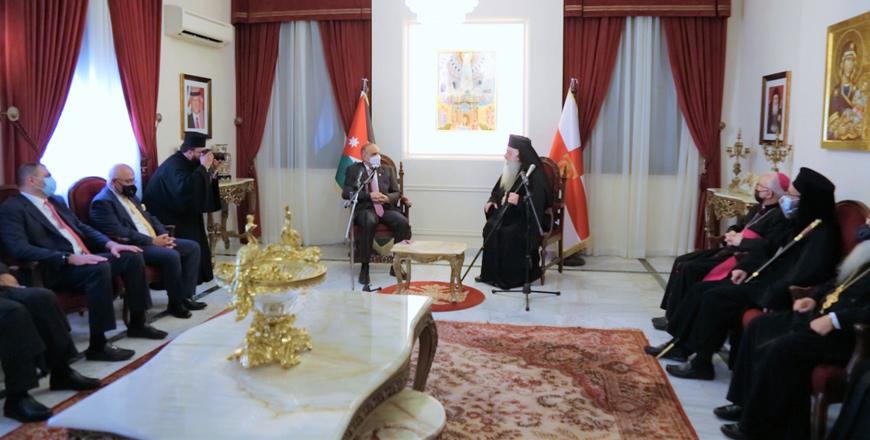 Prime Minister and Minister of Defence Bisher Al Khasawneh, accompanied by a number of ministers, meets with Greek Orthodox Archbishop and Head of the Jordan Churches Council Bishop Christophoros Attallah on Monday (Petra photo)
AMMAN — Prime Minister and Minister of Defence Bisher Al Khasawneh, accompanied by a number of ministers, on Monday visited the Greek Orthodox Archdiocese, offering good wishes and conveying greetings to Jordanian Christians celebrating Easter.
During a meeting with Greek Orthodox Archbishop and Head of the Jordan Churches Council Bishop Christophoros Attallah, as well as church leaders, Khasawneh highlighted His Majesty King Abdullah's efforts towards promoting interfaith harmony and coexistence, in addition to shouldering responsibility to safeguard Jerusalem's identity.
The premier also emphasized the importance of the role of churches, in cooperation with the Awqaf department in Jerusalem, in underpinning the Hashemite Custodianship over Islamic and Christian holy sites in Jerusalem.
He stressed that the Kingdom, by all political and legal means and under the leadership of His Majesty, will confront all unilateral measures that attempt to alter the historical status quo in the holy city.
Attallah reaffirmed the "distinguished" coexistence of Jordanian Muslims and Christians, voicing Jordanian Christians' pride of His Majesty's Custodianship over Islamic and Christian holy sites in Jerusalem.
Muslims and Christians have been living on this soil since more than 1400 years, and they jointly serve the homeland, he said, extending greetings on the occasion of the holy month of Ramadan.
The archbishop also voiced appreciation of measures and efforts towards maintaining the country's security and stability, as well as of the anti-coronavirus response, which aims to ensure safe faith-based gatherings.
Newsletter
Get top stories and blog posts emailed to you each day.