You are here
Press freedom on decline, sector insiders say, as official defends media-related laws
By Mohammad Ghazal - Apr 18,2016 - Last updated at Apr 18,2016
AMMAN — The status of media freedom in Jordan is witnessing a decline amidst the fluctuation and ambiguity of legislation governing the sector, media and law experts said Monday as officials defended media-related laws.
The experts decried the "useless" series of meetings, workshops and relentless lobbying for amending media-related laws to ensure wider freedoms for media outlets, stressing that the government needs to show seriousness and take fundamental steps in this respect.
"When compared to the region, Jordan might fare better. But the decline in media freedom is harming the country's image internationally. The situation is frustrating," Abdul Wahab Zgheilat, head of freedoms committee at the Arab Journalists Union, said at a forum on "Amending Media Legislation in Jordan" held by the Centre for Defending Freedom of Journalists (CDFJ).
"The authorities need to understand that it is hard to control media now. The world is an open digital space," said Zgheilat, a former chief editor of Al Rai Arabic daily.
The Lower House is generally conservative when it comes to endorsing legislation that gives more freedoms to media outlets, MP Jamil Nirmi said at the event.
"It is a disappointing fact, but it is true. The majority of MPs are conservative when it comes to endorsing legislation ensuring more media freedom. Over the past years, a series of discussions, meetings and gatherings were held to come up with better media-related laws but all those are shelved and forgotten," said the lawmaker.
Participants at the event called for amending the Electronic Crime Law, which cancels articles in other laws that ban the detention of journalists, with media professionals ending up behind bars for their opinions or articles they publish.
CDFJ President Nidal Mansour said 10 journalists were detained in Jordan last year under the Electronic Crimes Law and the Anti-Terrorism Law.
"We fully support enforcing the law on violators, and we are against slander and characters assassination. But we do not want these laws used to restrict media freedom as is currently the case," said Mansour.
However, stressing that media-related laws in Jordan are flexible and progressive, Abdallah Tawalbeh, assistant to the chairman of the Jordan Media Commission, said media legislation cannot restrict press freedom.
"I am not saying the laws are perfect, but they ensure media freedom," Tawalbeh added.
Law experts at the event said there are 10-11 laws that govern media in Jordan, noting that the majority of these pieces of legislation disturb the work of the sector, and confuse legal authorities and the judiciary.
up
98 users have voted, including you.
Related Articles
Apr 30,2016
AMMAN — Jordan was ranked 145th out of 199 countries in Freedom House's "Freedom of the Press 2016" report, maintaining the same level of la
May 04,2015
Media freedom in Jordan faces several restrictions and challenges, experts said Sunday, as the government said self-censorship among journalists has witnessed a steep decline.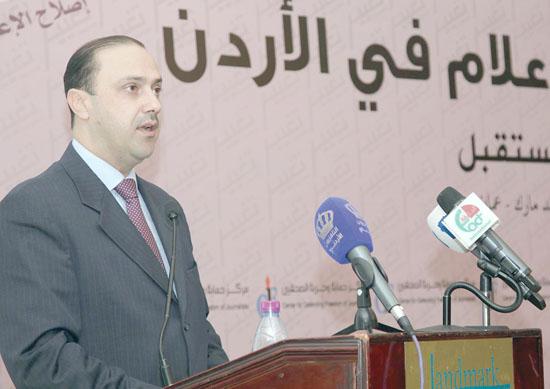 Mar 28,2015
The mass media should move towards an agenda that is more in tune with national interests, rather than serve as "government mouthpieces", experts said on Saturday.
Newsletter
Get top stories and blog posts emailed to you each day.