You are here
Press association condemns killing of journalists in Gaza
By Mohammad Ghazal - Aug 07,2014 - Last updated at Aug 07,2014
AMMAN — The Jordan Press Association (JPA) on Thursday criticised some Arab and Western media outlets for being biased in favour of Israel while reporting on its aggression on the Gaza Strip.
"Many Western media outlets and journalists working for them were not reporting objectively on the offensive against Gaza. They were altering facts," JPA President Tareq Momani said.
"Unfortunately, some Arab media outlets and journalists were also biased towards Israel," Momani added at a sit-in to protest against the war on Gaza and the targeting of Palestinian media personnel during the aggression.
Scores of journalists and media professionals participated in the protest, held at the syndicate's headquarters near Medina Munawara Street.
Holding banners with words of support for the Palestinians in Gaza and the Palestinian resistance, participants called on the international community to provide protection for journalists in conflict zones, condemning Israel for killing 12 journalists in Gaza in its offensive.
Protesters also burned Israeli flags.
"I call on bar associations across the Arab world to unify efforts to file lawsuits against Israeli officials and military personnel involved in committing massacres against civilians in the Gaza Strip," Momani said.
More than 1,800 Palestinians in Gaza were killed in the Israeli aggression and some 9,000 others were injured, of whom many sustained serious injuries, Palestinian medical sources have said.
Addressing the protesters, Abdullah Qaq, head of the JPA Palestine committee, condemned the Israeli aggression.
"We are here to show support for the Gazans and our colleagues in the profession who work in Gaza. We are also here to condemn some Arab and Western newspapers for altering the facts in favour of Israel," Qaq said.
Meanwhile, the association announced the launch of a campaign to collect aid to support media personnel and outlets working in Gaza.
The JPA president also voiced support for the Palestinian resistance.
"Israel will not enjoy peace until a prosperous, independent Palestinian state is established," Momani said.
Related Articles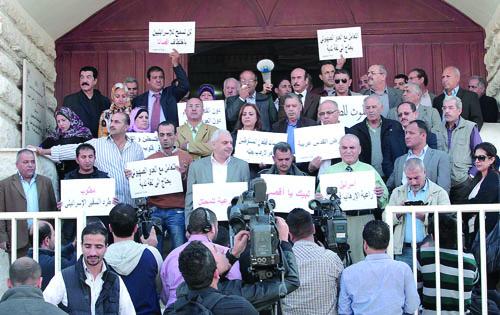 Nov 11,2014
Scores of journalists on Tuesday called on Arabs and Muslims to extend support to Arab Jerusalemites to enable them to stand up in the face of Israeli escalatory measures aimed at evicting them from the holy city.
Aug 06,2014
The Jordan Press Association (JPA) on Wednesday called on its members to participate in a sit-in organised to express solidarity with Gaza and denounce the Israeli aggression.
Jul 09,2014
The Jordan Press Association (JPA) on Wednesday condemned Israel's attacks on Palestinians in the Gaza Strip, which have resulted in the death and injury of dozens.
Newsletter
Get top stories and blog posts emailed to you each day.