You are here
Political observers deplore Israeli minister's break-in into Al Aqsa Mosque 
By Mays Ibrahim Mustafa - Jan 04,2023 - Last updated at Jan 04,2023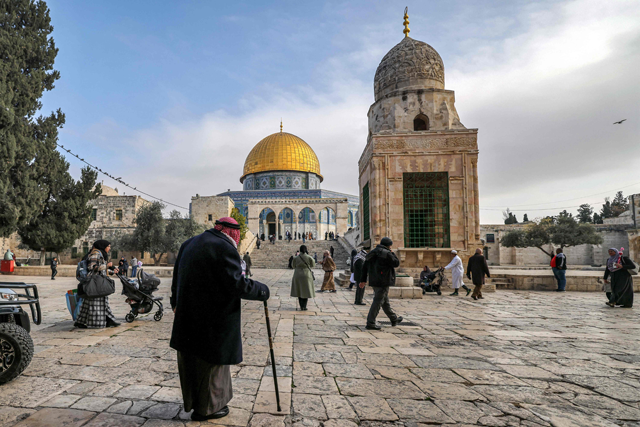 A man walks near the Dome of the Rock shrine at the Aqsa Mosque compound in Jerusalem on Tuesday (AFP photo)
AMMAN — Political experts are condemning the break-in of Israel's national security minister Itamar Ben-Gvir into Al Aqsa Mosque compound, describing it as a provocative move violating its sanctity.
Al Aqsa mosque, located in occupied East Jerusalem, is the third-holiest place in Islam.
The compound, also known by Muslims as Al Haram Al Sharif, is administered by Jordan's Waqf Islamic affairs council, while access to it is controlled by Israeli forces.
Mohammad Momani, a Senate member and a former Minister of State for Media Affairs, said that this kind of "religious incitement" risks stoking tensions and perpetuating a cycle of hatred.
"This undermines efforts to create a hopeful political horizon in the region," he told The Jordan Times.
Moreover, Momani noted that this break-in raises questions about Israel's commitment to the legal and historic status quo in Jerusalem.
"It's not compatible with the statement issued by the office of the Israeli Prime Minister Benjamin Netanyahu, declaring Israel's commitment to Jerusalem's status quo," he said.
Momani also noted that Jordan's stance on this matter "has always been clear" through His Majesty King Abdullah's affirmation that Jerusalem's holy sites are a "red line" under the Hashemite Custodianship.
Former media affairs minister Samih Maaytah stressed that a strong global action is required to prevent "Israeli extremists' from threatening the region's stability in these critical times".
"This incursion isn't an isolated incident, but an expression of the extremist thinking and approach of the Israeli government, which threatens escalating current tensions into a full flare-up", he told The Jordan Times.
Mohammad Al Tal, a Jordanian writer and political analyst, said that this move can trigger religious conflict, extremism and instability in the region.
"This incursion, which doesn't come as a surprise", is part of Israel's ongoing attempts to change the historical and legal status quo in Al Aqsa Mosque, he told The Jordan Times.
"It's an insult to Muslim sentiments and a flagrant expression of Israel's lack of respect for and recognition of the other," he added.
Moreover, Tal stressed the need for a strong international stance, especially from Arab and Islamic states in the region as Israel continues to "flout" international resolutions and treaties.
He also highlighted Israel's illegal expansion of settlements and settlers' repeated storming of Al Aqsa Mosque.
Tal also pointed out Jordan's role in leading and lobbying efforts to stand in the face of "Israeli aggressions".
"The preservation of Jerusalem's holy sites has always been at the top of the Kingdom's diplomatic and political priorities through the leadership of His Majesty King Abdullah," he said.
The General Secretariat of the Organisation of Islamic Cooperation (OIC) also condemned the incursion of Ben-Gvir into Al Aqsa Mosque compound under the protection of Israeli forces.
In a statement issued on Tuesday, the OIC described it as a "provocation of Muslims' sentiments and a flagrant violation of relevant international resolutions".
"The OIC holds the Israeli defence forces fully responsibile for the repercussions of the continued daily Israeli aggression against Al Quds [Jerusalem], including its people and holy sites," the statement said.
Newsletter
Get top stories and blog posts emailed to you each day.