You are here
PM opens 3rd meeting of Higher Committee of Industrial Partnership in Amman
12 agreements signed between Jordan, Egypt, UAE, Bahrain exceeding $2 billion
By JT - Feb 26,2023 - Last updated at Feb 26,2023
Prime Minister Bisher Khasawneh presides over a signing ceremony during the meetings of the Industrial Partnership for Sustainable Economic Growth's Higher Committee in Amman on Sunday (Petra photo)
AMMAN — Prime Minister Bisher Khasawneh on Sunday attended the third in a series of meetings of the Industrial Partnership for Sustainable Economic Growth's Higher Committee in Amman, featuring representatives from Jordan, UAE, Egypt and Bahrain.
Twelve agreements with a value of over $2 billion were signed during the meeting, projected to provide 13,000 direct and indirect job opportunities in the four countries and increase cumulative GDP by $1.6 billion, the Jordan News Agency, Petra, reported.
Chaired by Minister of Industry, Trade and Supply and Minister of Labour Yousef Shamali, the meetings were attended by Minister of Industry and Advanced Technology, and the UAE's Special Envoy for Climate Change Sultan Al Jaber, Egypt's Minister of Industry and Trade Ahmed Samir Saleh and Bahrain's Minister of Industry and Commerce Abdulla Adel Fakhro.
During the meetings, the Higher Committee approved the recommendations of the Executive Committee, discussing a number of strategic projects in a number of sectors.
The UAE-based automotive company "M Glory Holding" announced that it will allocate $550 million to build three electric vehicle (EV) factories with production and assembly lines in the UAE, Jordan, and Egypt, producing 40,000 "compact crossover" EVs in the first three years of operation.
The Jordan Design and Development Bureau (JODDB) and the Arab Organisation for Industrialisation (AOI) in Egypt signed a memorandum of understanding as manufacturing partners.
The JODDB also signed a memorandum of understanding with Bahrain-based Gulf Aluminium Rolling Mill (GARMCO) to supply aluminium sheets for manufacturing purposes.
The UAE CFC Group revealed that it will invest $400 million in Egypt to set up a chemical industrial complex.
In this regard, a memorandum of understanding was signed with the Arab Potash Company (APC) in Jordan to ensure a steady supply of potash, and with the Misr Phosphate Company to also supply phosphate.
Emirates Global Aluminium (EGA) also announced an investment of $200 million to establish a metallurgical silicon plant in the UAE with a production capacity of 55,000 tonnes annually. EGA also signed an agreement of understanding and cooperation to supply raw silica to the Jordanian Manaseer Group.
The Manaseer Group, in turn, announced the expansion of the Jordan Magnesia Factory at a value of $70 million, to add two units of magnesium hydroxide in addition to calcium chloride products in Jordan, with a total production capacity of 270,000 tonnes annually, to be exported to the UAE.
Jordan's Itqan Pharma Company and Bahrain's Alpha Biotech Company also sealed a memorandum of understanding for the transfer of technology and co-manufacturing.
The first and second phases of the project will cost a combined $174 million, producing generic medicines, oncological pharmaceuticals, medical solutions and other pharmaceutical products with an annual production capacity of 350 million tablets.
Global Pharma and Adcan Pharma, two Emirati companies, announced a new partnership with Jordan's Itqan to work together on technology transfer and manufacturing injections, aerosols and inhalers.
Additionally, Jordan's Itqan and the Egyptian company Marcyrl Pharmaceutical Industries signed a memorandum of understanding for the transfer of technology to produce biosimilars in Jordan, with an investment value of $10 million.
The project is expected to be finished and the products released in the fourth quarter of 2024.
At the beginning of the meetings, Shamali said that since launching the partnership in Abu Dhabi, Jordan has witnessed a "multifaceted boom, with deliberate steps heralding a profound and sustainable transformation in the relations between the four countries' industrial sectors".
His Majesty King Abdullah issued directives to exert all possible efforts to expedite the process of materialising the initiative, Shamali said, expressing his confidence in the willingness of all four countries' leaders to achieve the initiative's goals for the benefit and well-being of all.
Jordan has begun reorienting towards strategic partnerships with Arab countries, he said, lauding the outputs of the executive meetings held previously and the resulting partnership agreements, declarations of intent and supply contracts between the four countries.
Shamali focused on the Investment Environment Law, which enhances the competitiveness of the Jordanian economy, underlining that the law renders Jordanian and non-Jordanian investors equal in rights, privileges and duties, and enhances the protection of investments through non-interference in the legally recognised activities of the investors. The law also adopts and automates simplified procedures, stimulates innovation and creates an attractive environment for project development.
The Bahraini, Egyptian and Emirati ministers expressed their keenness to bolster cooperation and strengthen partnership with countries in the region.
Related Articles
Aug 23,2021
AMMAN — The Jordan Design and Development Bureau (JODDB) and Beyond Limits, Inc., a leading company in the field of artificial intelligence
Nov 03,2022
AMMAN — Jordan Armaments and Weapons Systems (JAWS), affiliated with the Jordan Design and Development Bureau (JODDB) and American company,
Jul 24,2022
AMMAN — Minister of Industry, Trade and Supply Yousef Shamali and Egypt's Supply Minister Ali Moselhi during a meeting in Cairo on Sunday di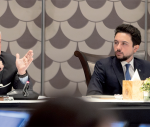 Newsletter
Get top stories and blog posts emailed to you each day.