You are here
Petra welcomes 'highest ever' number of tourists in Q1 2023 — PDTRA
Rose-red city sees significant increase in tourist footfall, thanks to 'revenge tourism'
By Mays Ibrahim Mustafa - Apr 02,2023 - Last updated at Apr 02,2023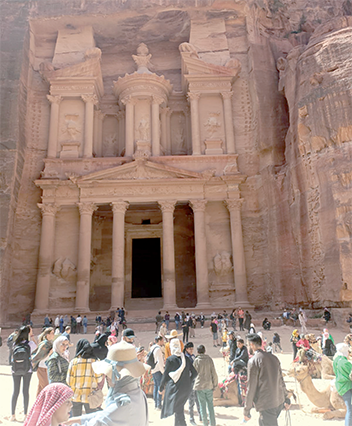 Visitors are seen at Petra's ancient Treasury, the rose-red city's iconic façade, some 220km south of Amman in this recent photo (Photo courtesy of Ahed Taha)
AMMAN — A total of 324,350 tourists visited Petra during the first quarter of 2023, marking a 35 per cent increase compared with the same period in 2019, Al Mamlaka TV reported on Friday.
Chairman of the Board of Commissioners of the Petra Development and Tourism Region Authority (PDTRA) Suleiman Farajat noted that this number is the "highest ever" in the history of the ancient city as a tourist destination.
The number of tourists visiting Petra in March reached 143,962, including 131,116 foreigners, of whom 23,746 are Americans followed by 16,108 Italians, 13,926 French and 13,565 Germans, according to Farajat.
Associate Professor of Tourism Marketing and Assistant Dean at the School of Tourism and Hospitality at Yarmouk University Salem Harahsheh noted that 2023 is forecast to mark a "very strong" rebound in tourism demand worldwide.
"This can be attributed to the pent-up demand, which accumulated due to extended periods of lockdown during the COVID-19 pandemic and provoked the appearance of revenge tourism," he told The Jordan Times.
"Revenge tourism" is a media buzzword that describes travelling to make up for the lost time being stuck at home during the pandemic.
The increase in the number of visitors to Petra in particular, which has been a UNESCO World Heritage Site since 1985 and one of the world's seven wonders, is partly due to Jordan's "long-standing" reputation as a safe destination and the increase in low-cost carriers' travel routes, which encouraged "already-eager" tourists to visit Jordan, according to Harahsheh.
He pointed out that the ancient city's location is also "quite unique", allowing visitors to enjoy the nearby desert landscapes of Wadi Rum and later on dive in the warm waters of Aqaba or take a walk on its sandy beaches.
These factors combined with the marketing efforts of the Jordan Tourism Board (JTB) lead Petra to welcome this record number of visitors, he said.
"The [JTB] launch of the 'Kingdom of Time' brand for Jordan, is a step in the right direction, reintroducing it as an intriguing and multifaceted destination that is rich in its culture, history and people," he added.
According to Harahsheh, branding is "very powerful", as it helps create a unique identity for a destination by mobilising its most appealing and competitive assets
US television personality Oprah Winfrey, describing Petra as a "must-see" destination following her recent trip, also helped shine the light on the ancient city as an attractive destination, he said.
Collaborations with public figures or travel bloggers and influencers on social media platforms can be effective in creating "viral" marketing campaigns, Harahsheh noted.
"Such modern digital marketing strategies allow us to engage with travel enthusiasts around the world in a way that has never been possible before," he said.
However, employing human and financial capital to implement marketing strategies should be preceded by investing in Jordan's tourism infrastructure including transport, accommodation, parks facilities, restaurants and entertainment venues, among others, he continued.
Moreover, Harahsheh stressed the need to promote sustainable tourism, through investing in traditional handcrafts and training tour guides from the local community, which helps create jobs in underserved communities and offers tourists unique and personalised experiences.
The Jordan Times also spoke with representatives from local travel agencies, who noted a marked growth in demand during 2023.
Hala Ahmad, the reservation manager at a travel agency, said that the year 2023 is witnessing the highest growth in tourism and travel demand since the outbreak of the COVID-19 pandemic.
Omar Abu Nimreh, operations supervisor at a travel agency, said that the number of reservations for trips and holiday packages has increased by over 50 per cent compared with the same period last year.
Contributing factors to this increase include low cost carriers and United airline's direct flights from Washington to Jordan, launched for the first time in 2022, according to Abu Nimreh.
Related Articles
May 02,2023
AMMAN — A total of 471,037 tourists visited the ancient city of Petra during the January-April period of 2023, according to data issued by t
Jul 02,2019
AMMAN — Over half-a-million people have visited Petra during the first six months of 2019, setting an unprecedented record for the city, fig
Nov 16,2022
AMMAN — The international tourism website Lonely Planet has placed Jordan among its world's top 30 tourist destinations for 2023, advising t