You are here
Petra records 30 per cent rise in visitors in first eight months of 2019
By JT - Sep 01,2019 - Last updated at Sep 01,2019
The rose-red city in August 2019 alone welcomed 66,437 visitors, according to the Petra Development and Tourism Region Authority (Photo courtesy of Petra Development and Tourism Region Authority)
AMMAN — A total of 657,918 tourists of various nationalities have visited Petra in the first eight months of 2019, compared with 507,299 visitors during the same period of 2018, marking a 30 per cent increase.
Petra Development and Tourism Region Authority (PDTRA) Chief Commissioner Sulaiman Farajat on Sunday told the Jordan News Agency, Petra, that foreign tourists in the first eight months totalled 563,468, increasing 48 per cent compared to the same period of 2018 that registered 381,776 visitors.
On a monthly level, the rose-red city in August 2019 alone welcomed 66,437 visitors, including 47,993 foreign guests, 18,040 Jordanians and Arabs and 404 visitors of school trips, Farajat noted.
He added that during the same month of 2018, Petra received 57,975 visitors, including 32,552 foreign nationals, 24,693 Jordanians and Arabs and 730 students on school trips.
According to PDTRA statistics, Petra over the past three months of 2019 welcomed 143,609 guests, compared with the same period of 2018 that received 90,689 visitors, marking an improvement rate of 58 per cent, which highlights the end of the tourist season in Petra for this time of the year.
Farajat noted that joint efforts and stability in the area are among the reason for the rise in the number of tourists, stressing that the PDTRA seeks to diversify tourism in the city and extend the stay of tourists through establishing more projects.
In 2018, a total of 826,993 guests entered Petra, 220km south of Amman, compared with 620,441 in 2017, recording a 33 per cent increase.
Related Articles
Apr 01,2019
AMMAN — The number of foreign visitors to Petra in the first three months of 2019 increased by 53 per cent to 219,503 guests, compared with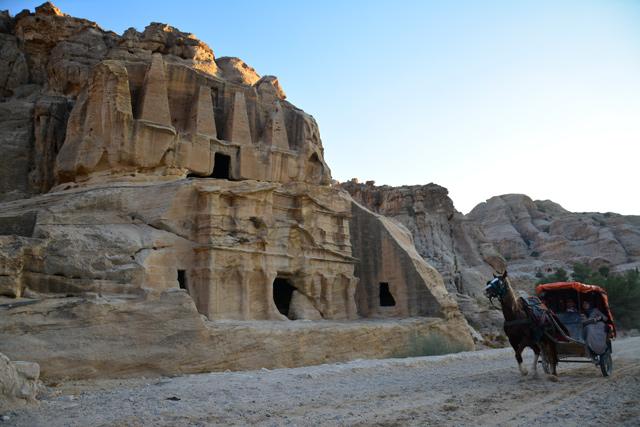 May 01,2019
AMMAN – A total of 138,110 people visited Petra during April of this year, the highest number ever in the history of the ancient city as a t
Jan 03,2019
AMMAN — The ancient city of Petra recorded in 2018 its second largest number of visitors since it was established as an official tourism des