You are here
Peace not merely cessation of war — Princess Sumaya
By JT - Apr 23,2017 - Last updated at Apr 23,2017
HRH Princess Sumaya gives the keynote address during the launch of the book 'From Politics to Policy: Building Resilience in West Asia and North Africa' in Amman on Tuesday (Photo courtesy of the Friedrich-Ebert-Stiftung)
AMMAN — Under the patronage of HRH Prince Hassan, the WANA Institute and the Friedrich-Ebert-Stiftung (FES) launched their new book "From Politics to Policy: Building Resilience in West Asia and North Africa" on Tuesday.
An anthology of research conducted by the WANA Institute between 2015 and 2016, the book covers areas of human security, social justice, and sustainability, a statement from the organisers said
During her keynote address, HRH Princess Sumaya emphasised that "peace is not merely the cessation of war".
The princess noted that "peace is a process to be built between people who work towards a shared goal. It is our responsibility to break out of our self-inflicted paralysis, to find the courage and the political will to create a climate for regional cooperation, and a security system grounded in evidence-based strategic planning, human solidarity, and pluralist human dignity".
The speech was followed by a discussion of the book with co-author Adel Elsayed Sparr, senior adviser to the National Coordinator against Violent Extremism at the Government Offices of Sweden, Dorit Schumann, vice president for International Affairs at the German Jordanian University, and Ayman Khalil, director of the Centre for Security Studies at the University of Jordan.
Schumann concluded saying that "this book is not only a must-read for each politician in the WANA region, but should be present in each library and each university library as well".
Framed by an introduction and a conclusion by Prince Hassan, the chapters highlight the need for increased inter-sectorial collaboration as the key to crafting solutions for the developmental challenges facing the West Asia and North Africa region. Moreover, they stress that by building resilience, empowering women, and promoting social justice, pathways towards prosperity and stability will be forged, the statement said.
While the notion of resilience is complex, the statement continued, it is a prerequisite for a new humanitarian order that places human dignity and security ahead of economic growth and political power.
"Such a strategy demands a change in the minds of policymakers, who must embrace challenges as naturally occurring phenomena, to be reacted to and learned from, as opposed to resisted to."
The region possesses both the natural and human resources necessary to promote modern, pluralistic societies where violent extremism, marginalisation or exclusion will no longer prevail, according to the statement.
Building resilience does not mean that every possible scenario must be planned out. Instead, it involves learning how to cope with surprises in a constructive way. This book argues that in times of chaos, it is human security, above all else, that will promote stability, the statement concluded.
The publication can be downloaded at (http://library.fes.de/pdf-files/bueros/amman/13307.pdf) and hard copies are available at the offices of WANA and FES in Amman.
Related Articles
Apr 18,2017
AMMAN — Under the Patronage of HRH Prince Hassan, the WANA Institute and the Friedrich-Ebert-Stiftung (FES) will launch their new book "From
Oct 21,2017
AMMAN — The West Asia-North Africa Institute (WANA) and Friedrich-Ebert-Stiftung (FES) on Thursday hosted a high-level panel discussion on J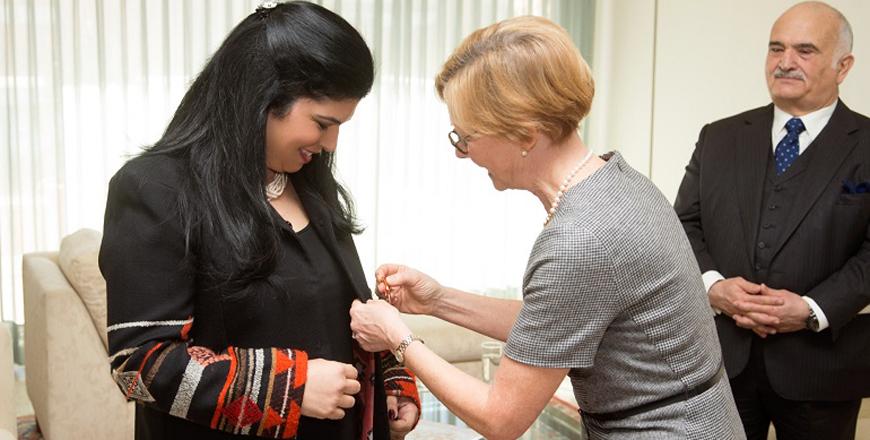 Feb 06,2017
AMMAN — German Ambassador Birgitta Siefker-Eberle on Monday awarded the Order of Merit of the Federal Republic of Germany to HRH Princess Su
Newsletter
Get top stories and blog posts emailed to you each day.