You are here
Park in honour of disability activist Aya Agabi inaugurated in Abdali
By JT - Sep 26,2023 - Last updated at Sep 26,2023
HH Prince Mired and guests during the inauguration of a park in the Abdali region named after disability activist Aya Agabi in the Abdali area of the capital on Tuesday (Petra photo)
AMMAN — HH Prince Mired, the chief chamberlain and the president of the Higher Council for the Rights of Persons with Disabilities (HCD), on Tuesday attended the opening of a park in the Abdali area named after the late Aya Agabi in recognition of her efforts in establishing the Accessible Jordan initiative in 2017.
The primary objective of the initiative is to transform commercial, public and tourist locations into spaces that are accessible and welcoming to people with disabilities, mothers and the elderly, according to the Jordan News Agency, Petra.
The establishment of the park was made possible by financial support from Orange Jordan, Abdali Investment and Development Company and Accessible Jordan. It also received technical support from the HCD and the Greater Amman Municipality.
The park has a number of accessibility features specifically designed for people with disabilities, such as ramps, designated parking spaces, floor indicators for the visually impaired and accessible areas for wheelchair users.
In addition, the park's name is printed in Braille at the entrance. There is also a brief introduction to Agabi that is accessible to individuals with visual or hearing impairments via a QR code and sign language translation.
During the opening ceremony, Prince Mired praised the efforts of Agabi in removing obstacles and challenges faced by persons with disabilities, notably her coordination with the relevant authorities in making the concept of independent living a reality rather than just an idea.
The prince stressed the importance of this initiative and its potential for long-term economic impact.
Despite a car accident at the age of 18 that left her unable to walk, Agabi earned a bachelor's degree in Development and Design Studies from the University of California, Berkeley.
She has worked with several international organisations such as UNICEF and the International Relief Committee, and served as an adviser to the Higher Council for the Rights of Persons with Disabilities.
In 2017, she founded the Accessible Jordan initiative.
Agabi passed away in 2019, leaving behind a legacy of dedication and service.
Related Articles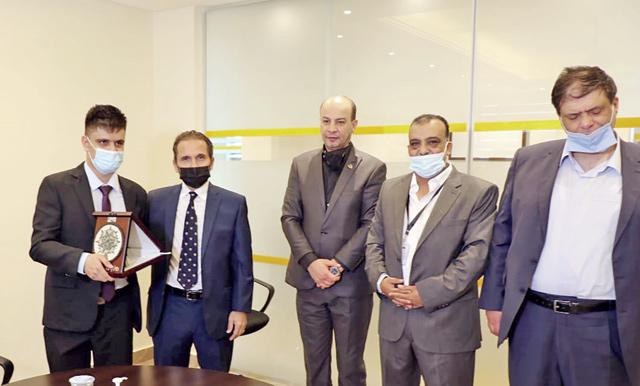 Sep 02,2021
AMMAN — HH Prince Mired, the president of the Higher Council for the Rights of Persons with Disabilities (HCD), on Wednesday honoured Al Taj
Jul 26,2021
AMMAN — HH Prince Mired, president of the Higher Council for the Rights of Persons with Disabilities (HCD), on Monday discussed with the Jor
May 23,2019
AMMAN — HH Prince Mired, president of the Higher Council for the Rights of Persons with Disabilities (HCD) on Thursday met with Chairman of