You are here
Owais talks education challenges during UN Education Summit
By JT - Sep 22,2022 - Last updated at Sep 22,2022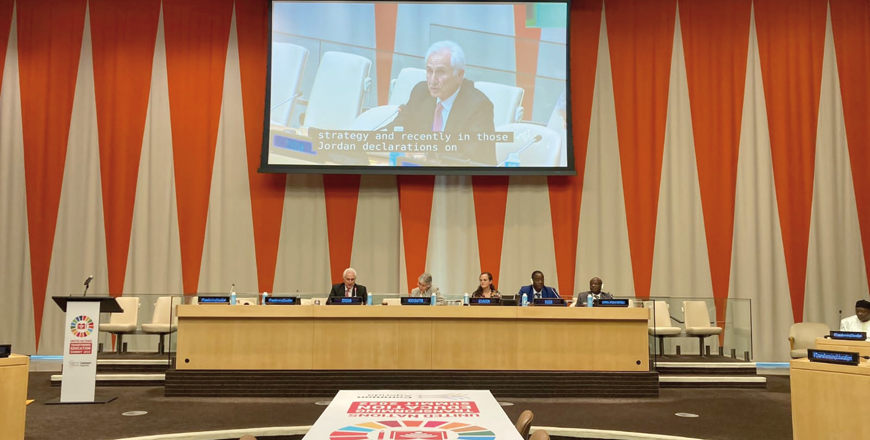 Minister of Education and Higher Education and Scientific Research Wajih Owais during the UN Transforming Education Summit in New York City on Wednesday (Petra photo)
AMMAN — Providing safe and supportive educational environments and systems that guarantee access to education for all students is a priority, Minister of Education and Higher Education and Scientific Research Wajih Owais said on Wednesday.
Owais' remarks came during a session on global education challenges at the UN Transforming Education Summit in New York City, the Jordan News Agency, Petra, reported.
The minister said that the Kingdom primarily focuses on children who are subject to higher dropout rates, including refugee students and students with disabilities.
He also stressed Jordan's dedication to providing excellent educational opportunities to all refugee children at national schools from kindergarten to the 12th grade, noting that the Kingdom has hosted several refugee arrivals as they sought refuge from humanitarian crises in various Middle Eastern countries.
Owais highlighted the importance of continued financial support from the international community to ensure the sustainability of vital services which offer a quality education to all children in the Kingdom, regardless of their nationality, capabilities, disabilities, gender, or socio-economic background.
The minister added that Jordan, like other countries during the COVID-19 pandemic, suffered during the nearly two years of school closures, as many children struggled to access online education.
He noted that Jordan was one among few countries that conducted a national assessment once students returned to schools after the pandemic. Owais pointed out that the assessment showed that the level of the majority of students was much lower than pre-pandemic class expectations.
Owais noted that Jordan is keen to discuss the impact of these results on its educational system, expressing the Kingdom's appreciation for its partners' efforts in helping to restore the status of education.
He mentioned Jordan's mindfulness of the importance of guaranteeing equal access to education, noting that the country has established a national online education platform that reached 94 per cent of students, provided accommodations for underprivileged students, including refugees, and distributed print materials to support at-home education.
The minister noted that Jordan is paying special attention to matching education with the needs of the labour market to ensure student retention, and redirecting some courses towards vocational education.
Owais concluded his speech with a summary of three emergent threats facing Jordan: The Syrian crisis and its impact on the refugee education; the consequences of the COVID-19 pandemic regarding children's education; and the effects of climate change on the future of water security.
Newsletter
Get top stories and blog posts emailed to you each day.