You are here
Over 160 died as result of sudden lane changes in 2022 — JTI
By Rana Husseini - Jul 19,2023 - Last updated at Jul 19,2023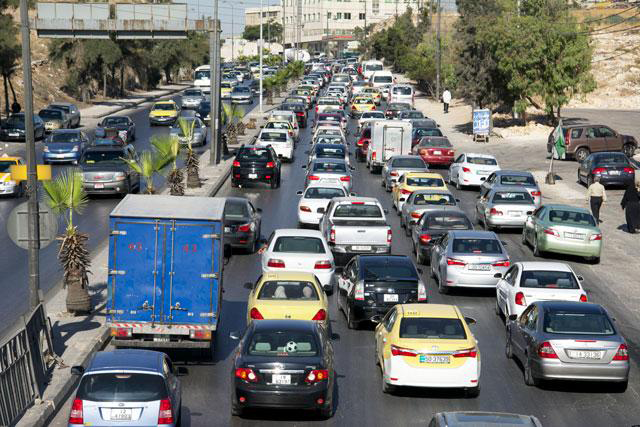 Officials at the Jordan Traffic Institute said that over 160 people died as a result of sudden lane changes in Jordan last year (File photo)
AMMAN — Officials at the Jordan Traffic Institute (JTI) said that over 160 people died as a result of sudden lane changes in Jordan last year.
Major Faisal Fraihat of the JTI, speaking during a interview on Radio Amman FM, said that changing lanes suddenly is one of "the most dangerous traffic violations in the Kingdom".
"We had 40,000 incidents of sudden lane changes and failure to abide by traffic safety rules in 2022, which resulted in 169 fatalities in the Kingdom, and 207 severe injuries," the official said.
Fraihat urged motorists to exert extra caution when deciding to change lanes, and to use every car mirror available to ensure that "there are no blind spots that would cause an accident".
"Motorists also need to look over their shoulders before changing lanes to avoid crashing with other vehicles who could be in their blind spots," he explained.
Last year, Jordan witnessed over 170,000 road accidents resulting in 562 deaths, according to traffic officials.
In 2021, approximately 160,000 road accidents occurred in Jordan, resulting in 589 deaths and 11,241 injuries. Of the injuries, there were 737 deemed serious injuries.
The Cabinet recently approved amendments to the 2008 Traffic Law which stiffen fines and introduce stricter measures against violators.
In the bill, running a red light will result in one to two months imprisonment and a fine between JD200 and JD300. In the case that an offense occurs again within the same year, the penalty will be doubled.
Traffic officials recently pledged to step up road monitoring and increase the number of traffic patrols and officers on the streets.
The traffic department also vowed to increase the number of undercover police on the roads, boost CCTV road surveillance and follow up on reports of traffic violations posted on social media platforms.
Last year, traffic officials also announced that the CTD would reintroduce the Traffic Point System that was initially published in the Official Gazette in early 2018.
Newsletter
Get top stories and blog posts emailed to you each day.