You are here
Numeira in southern Jordan offers glimpse into ancient agricultural town
By Saeb Rawashdeh - Sep 09,2019 - Last updated at Sep 09,2019
Storage and work areas of an ancient house in Numeira (Photo courtesy of the Expedition to the Dead Sea Plain)
AMMAN — Numeira, an archaeological site in Jordan near the southern Dead Sea, offers some of the best preserved excavated houses of the walled towns of the Early Bronze Age in the region, said an American anthropologist.
"We know that people established the community in approximately 2850 BC and abandoned it around 2550 BC," noted Professor Meredith Chesson from the University of Notre Dame, adding that scholars estimate that approximately 15 generations lived in this one-hectare walled town.
Numeira's excellent preservation provides unparalleled evidence to investigate how these people fed themselves, the scholar said, noting that excavators at Numeira have uncovered approximately 200 storage features, including pits, clay and stone silos and mudbrick and stone bins built into and onto floors of most homes.
"They also found hearths, tabuns, ceramic vessels for storing, cooking and serving food and an abundance of plant remains and animal bones from trash contexts that offer us detailed evidence for what types of foods and animals made up the backbone of the town's economy," she highlighted, saying that the daily lives of the ancient Numeirans were filled with growing, harvesting and processing animal and plant products to feed, house and clothe themselves and their families.
The research team found evidence of making flax oil, wine or grape juice, and trading chickpeas from other parts of the region, the professor said.
"At its heart, Numeira was an agricultural town, striving to sustain itself with farming, herding, and orchard raising, supported by its local potters, winemakers, olive oil makers, weavers and stone tool makers," Chesson explained.
Archaeological evidence of how housing was organised relies on more circumstantial arguments, Chesson continued, adding that "we lack strong evidence for pronounced social inequality: all the houses are roughly the same size, and furnished with the same types of objects and features".
"We have found only few precious items that we could consider luxury goods," emphasised the anthropologist.
An interesting shift took place when inhabitants began to store their foodstuffs in roofed buildings away from open and more accessible courtyard spaces, she noted.
"They also significantly increased the volume of what they could store. That movement into more private areas along with the increase of capacity suggests to archaeologists that they did not want visitors to know how much or what types of goods they were storing, unless those guests had the right to enter the heart or more enclosed parts of the home," Chesson said.
By 2500 BC, the vast majority of the fortified settlements throughout the region were abandoned. Probably the farmers and herders had to develop new strategies for changing climatic conditions, especially in terms of rainfall at that time, the scholar said.
"It's likely that they failed to adapt to shifting environmental situations, and could not feed their families and the broader community," Chesson concluded.
Related Articles
Jan 31,2019
AMMAN — Scholars researching the Early Bronze Age (EBA) (2000–1500BC) in the region say people during this period likely faced some of the s
Jun 03,2018
AMMAN — The fascinating nature of urbanism, revealed by Jordan's archaeological sites, motivated Meredith Chesson, an American anthropologis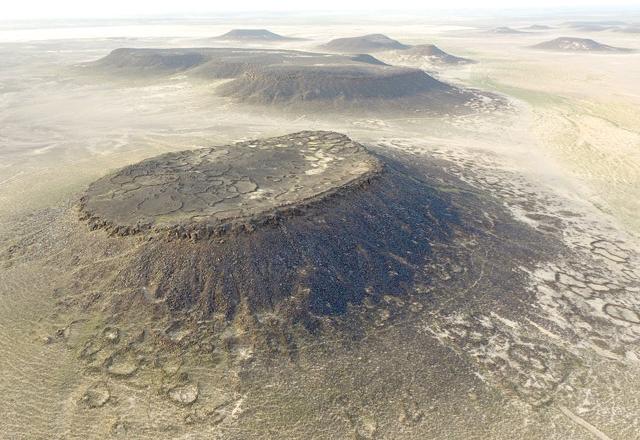 Jul 10,2017
AMMAN — After the sharp decrease of precipitation around 7000BC, all of the known large Neolithic sites such as Basta, near Pet