You are here
New Jordan-Iraq MoU promising for trade, say experts
By Rana Tayseer - Feb 04,2023 - Last updated at Feb 04,2023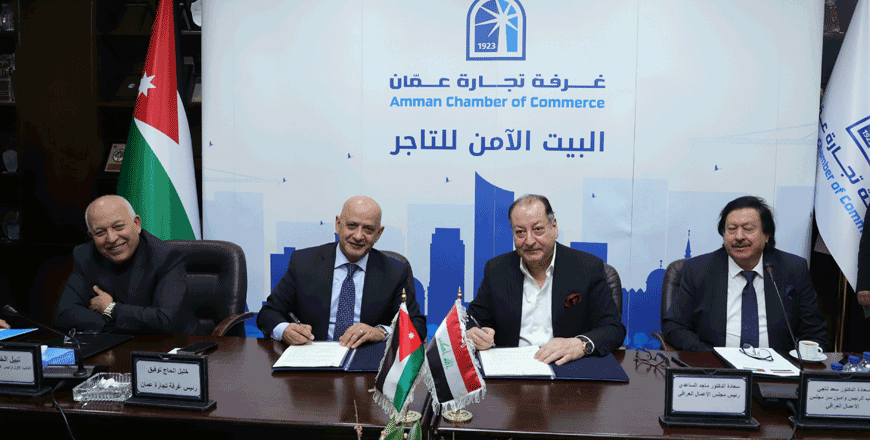 Amman Chamber of Commerce President Khalil Hajj Tawfiq and Iraqi Business Council Chairman Majed Al Saadi during the signing of an agreement on Friday (Petra photo)
AMMAN — Experts on Saturday stressed the importance of the Iraqi market for Jordan's economy, calling for more cooperation in various sectors.
The Amman Chamber of Commerce (ACC) signed an agreement with the Iraqi Business Council (IBC) to enhance the concept of partnership, and facilitate and develop the process of cooperation between them in the economic field in general, and trade and services sectors in particular.
The memorandum, which was signed on Friday by ACC President Khalil Hajj Tawfiq and Chairman of the IBC Majed Al Saadi, stipulates cooperation in exchanging information on a regular basis, especially related to the economic field and facilitating trade and disseminating information to the business community and economists in the two countries.
They will also cooperate to hold events and meetings with the private sector in both countries to look for more avenues of cooperation.
Economist Hosam Ayesh told the Jordan Times on Saturday that "Jordan's return to the Iraqi market is not easy, but it is a gradual return within agreements between Jordan and Iraq".
"As relations between Jordan and Iraq are very developed, the agreement bodes well for the gradual return to better economic and trade relations," he added.
Hajj Tawfiq emphasised the importance of Iraq as a commercial and strategic partner for the national economy, stressing the need to establish new cooperation channels between the two countries to achieve economic unity, the Jordan News Agency, Petra said.
Jordan has ample opportunities and areas for economic integration with Iraq, he said.
Relations between the two countries have seen notable growth, he said, highlighting efforts to remove any obstacles hindering joint projects and calling to speed up the implementation of the oil pipeline and industrial zone.
The Jordanian-Iraqi Joint Committee will convene in Baghdad next Wednesday, to address ways of enhancing bilateral cooperation across several sectors, particularly the economic sector. The meeting will address several key files aimed at reinforcing the partnership between the two neighbouring countries.
On the sidelines of the committee meetings, a joint business forum will also take place to explore further collaboration opportunities among private sector institutions, businesses, and companies from both countries.
Jordan and Iraq's trade exchange increased during the first 11 months of 2022 to reach some JD707 million, against JD415 million for the same period in 2021.
According to a report released by the Department of Statistics (DoS) recently, the total volume of trade exchange between Jordan and Iraq witnessed an increase.
The total volume of trade exchange between Jordan and Iraq reached JD707 million between January and November 2022, against JD415 million during the same period of 2021, according to the report.
Jordan's exports to Iraq during the reporting period reached JD565 million, compared with JD369 million during the same period in 2021.
The Kingdom's imports from Iraq also increased from JD46 million to some JD142 million during the same period, according to the report.
Newsletter
Get top stories and blog posts emailed to you each day.