You are here
New Al Mamlakah TV channel launches broadcast with hopes for 'freer, closer-to-public' coverage
By Suzanna Goussous - Jul 16,2018 - Last updated at Jul 18,2018
AMMAN — As the Al Mamlakah TV station launched its broadcast on Monday, media experts voiced hope that the channel would present coverage with a "higher ceiling of freedom" and enriched content, contributing to boosting honest competition and promoting diversity in the local media scene.
The independent public service channel is to broadcast coverage of "issues of interest for Jordanians from all walks of life", according to a statement issued by Al Mamlakah ("The Kingdom" in Arabic).
In a rapidly-changing media scene, the TV channel "will play a vital role in delivering Jordan's message to the world" through a 24-hour, diverse schedule, including political talk shows, documentaries, sports shows, and round-the-clock news coverage, according to the statement.
Jordan Press Association board member Khaled Qudah expressed hope that the channel would be "a leap forward" towards the improvement of media freedom in a way that serves the channel's audience and best tackles their everyday issues.
He told The Jordan Times that the most important aspects to introduce in new media platforms are "transparency" and "higher levels of press freedom".
"We expect the channel to add more friendly competitiveness to the local media scene, in a way that will help tackle issues with more professionalism and freedom," Qudah continued, adding "we hope it would be an outlet for the people".
He said the coverage of Amman's Fourth Circle protests last month exemplify the rise in the level of professionalism in local media outlets in Jordan. "We look forward to seeing more diversity on-screen; a media platform that is closer to the audience than to politicians, to prove that freedom of expression and professionalism do not clash," he concluded.
For Nidal Mansour, President of the Centre for Defending Freedom of Journalists, the existence of an independent TV channel will give the people more access to information and local events, away from "external" control of the content.
"We expect it to broadcast investigative reports with high levels of freedom and professional journalism, addressing local concerns with precision," Mansour told The Jordan Times, stressing that the broadcaster will be an opportunity for the local media scene to break taboos and barriers in delivering the news.
"In a survey conducted in 2016 about Al Mamlakah, the results showed that people were pessimistic about the channel at first. But, in 2017, there was a slight improvement as to how Jordanians viewed a new independent public service channel to speak for them," he recounted.
The channel can be found at Arab Sat HD 12054 Vertical, Nile Sat SD 12034 Horizontal, and Nile Sat HD 11958 Horizontal, and online at https://www.almamlakatv.com/
Related Articles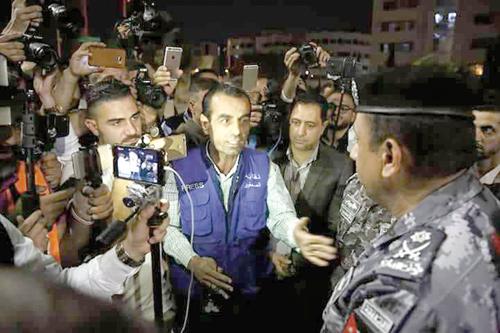 Jul 12,2018
AMMAN — "The positive experiences of both local and international media covering the recent protests in Jordan shall serve as a model and a
Jan 26,2016
AMMAN — The number of satellite television channels broadcasting from Jordan reached 45 at the end of 2015, according to Jordan Media Commis
Jun 30,2018
AMMAN — Al Mamlaka ("the Kingdom") television station announced on Saturday that it will start broadcasting on July 16.The news channel, whi