You are here
NASA-trained young Jordanian develops, with team, nanosatellite 'CubeSat'
Miniature satellite, to be launched on a mission in February 2018, developed under Crown Prince initiative
By Dana Al Emam - May 23,2017 - Last updated at May 23,2017
24-year-old Zeid Kawar is part of the young Jordanians' team that developed the first Jordanian CubeSat (Photos by Osama Aqarbeh)
AMMAN — The experience and skills that Zeid Kawar gained through his participation in a two-month training at NASA's Ames Research Centre triggered his interest in developing the first Jordanian CubeSat.
The 24-year-old was among a group of young Jordanians taking part in the first batch of an internship programme at NASA that started in 2014 through an initiative launched by HRH Crown Prince Hussein.
Kawar, a graduate of power engineering who is currently employed at a solar energy company, felt that he and other young Jordanians who have taken part in the internship programme should give back to the country and prove that young Jordanians are capable of excelling in sciences.
In an interview with The Jordan Times on Monday, Kawar said that he gained many things from his experience, including planning, time management and team work skills, all of which he and other members of the team had to put into practice.
Under the Masar initiative of the Crown Prince Foundation (CPF), Kawar and 15 other young Jordanian men and women have developed the CubeSat, which is scheduled to be launched on a mission in February 2018, a date on which the team pins great hopes and ambitions.
CubeSats are a class of research spacecraft called nanosatellites. The cube-shaped devices are approximately 10.15cm long, have a volume of about one quart and weigh about 1.36kg. These CubeSats are flown as auxiliary payloads on previously planned missions, according to NASA.
Fourth year electrical engineering student Aya Jaafari is another member of the team.
She said working on the CubeSat has allowed her to practically implement a lot of what she learns theoretically at university.
Jaafari told The Jordan Times that her passion is science that makes her commit to spending six hours every Saturday working with her colleagues on the project.
Her colleague at the University of Jordan, Nour Khatib, said her involvement in the project, although she did not take part in the NASA internship programme, has allowed her to work with engineers and engineering students from other disciplines, a situation which is closer to the real professional environment that students often lack while at university.
These young Jordanians are supervised by a group of experts and academics through their weekly meetings held at the Royal Jordanian Radio Amateurs Society (RJRAS).
Director of the initiative Sanad Haddad said the CubeSat, through satellite technologies, will broadcast images of archaeological and touristic sites in Jordan through radio waves to the rest of the world using the radio call sign of JY1, which His Majesty the late King Hussein used for his radio correspondences.
The audience for this broadcast is estimated to be around 3 million members of the radio community, in addition to 5 to 7 million experts.
In addition to developing the CubeSat, students who have volunteered to work on this project have also built a ground satellite station at the RJRAS, under the supervision of experts.
After the launch of the satellite, the group will engage the community through planned events and campaigns to be held on campuses to educate students about the project and encourage school students to join if they have a passion for space technology.
One of the mentors, Laith Sawaqed, a professor of mechanical engineering at the Jordan University of Science and Technology, said the importance of the CubeSat project lays in the fact that it combines the efforts of Jordanian youth in several fields of science and engineering in a national project.
But for Osama Saadeh, another supervising professor of electrical engineering at the same university, the biggest achievement of the project is its ability to connect youth from across the country, whether physically or virtually, to work on a project they are passionate about.
While the CubeSat is yet to be launched next year, all efforts are now geared towards capacity building, with plans for continuity after the launch, and for handover to new generations of students.
CPF's CEO Omar Masarweh said the Masar initiative seeks to enhance innovation among youth interested in space technology and advance their technical and vocational skills, noting that other CPF programmes and initiatives also seek to enhance the leadership and participation skills of youth and promote social service.
He underlined the research and educational purpose of developing the CubeSat programme.
Masarweh highlighted that the initiative gives young people in Jordan the hope that they can achieve what they aspire to.
The CPF, one of several initiatives launched by the Crown Prince to engage youth in constructive activism and promote their rights, aims to improve the living conditions of young people in Jordan by providing opportunities to nurture their skills, according to previous reports.
Related Articles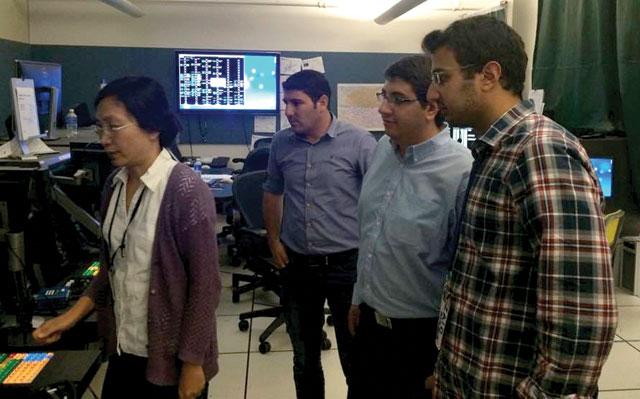 Mar 15,2015
A group of Jordanian university students will develop a CubeSat by this summer that will be flown on rockets planned for upcoming launches by NASA into the space.
May 07,2017
AMMAN — The Crown Prince Foundation (CPF) on Saturday announced the admission of four new students at NASA's Ames Research Centre in the US
Feb 06,2018
AMMAN — The Crown Prince Foundation (CPF) on Tuesday signed a Memorandum of Understanding (MoU) with telecom provider, Zain Jordan, under wh
Newsletter
Get top stories and blog posts emailed to you each day.