You are here
More work needed to push women to senior positions in media, sector insiders say
By Laila Azzeh - Feb 18,2017 - Last updated at Feb 18,2017
AMMAN — Despite their success in the field of media, women in Jordan still represent a "tiny" proportion of decision makers and leaders in the sector, experts agreed on Saturday.
While obstacles facing Jordanian women in the media are as apparent today as ever — according to sector representatives — the situation has worsened with women's perception of the career and its demands.
"Unfortunately, some women see media work as prestige rather than a career full of troubles and challenges. They behave as if it were a regular office job, and this stands in their way to reach senior positions in the sector," said Al Ghad's Editor-in-Chief Joumana Ghuneimat.
On the other hand, she blamed media organisations for not recognising distinguished women, who are capable of assuming senior positions.
Ghuneimat made her remarks during a roundtable discussion held by the World Association of Newspapers and News Publishers' Women in News (WIN) programme for media executives in Jordan.
Bayan Tal from the Jordan Media Institute echoed similar sentiments, noting that women have the potential to assume top positions in media organisations, but she cited what she described as the "absence of a political will" to ensure gender equality in the media.
"The situation of women in the media is a reflection of their overall status in all sectors," she said.
Rana Sabbagh, executive director of the Arab Reporters for Investigative Journalism network, who also served as chief editor of The Jordan Times from 1999 to 2001, shed light on her experience as a female journalist who covered beats that were deemed as male-dominated, such as Parliament.
The experts, who included Al Rai Editor-in-Chief Tareq Momani, Aouni Daoud from Ad-Dustour newspaper, and Daoud Kuttab from Amman Net, recommended motivating women to assume senior positions by providing them with the necessary training and a more enabling work environment.
WIN is a four-year, multi-million euro project implemented in cooperation with the Swedish International Development Cooperation Agency and the Norwegian ministry of foreign affairs in order to address gender imbalance in media in Jordan, Palestine, Lebanon and Egypt.
The programme targets women journalists and high-potential female editors to overcome the gender gap in management and senior editorial positions, according to organisers.
Related Articles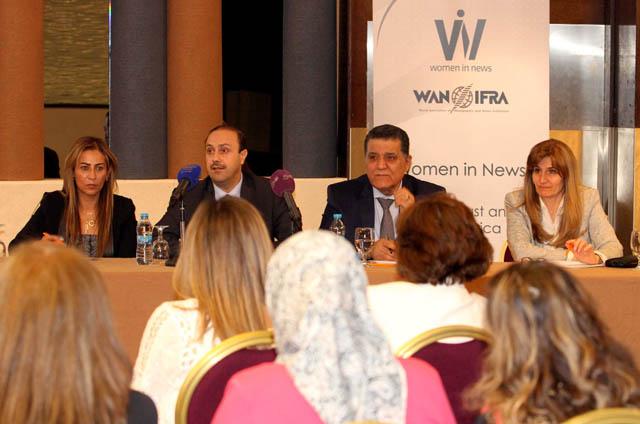 Jun 16,2017
AMMAN — Further efforts are needed to address the "patriarchal mentality" that still dominates many media institutions in Jordan, thereby hi
Nov 24,2016
AMMAN – Repealing Article 308 of the Penal Code continues to be a top priority for organisations seeking a better life for Jordanian women.W
Oct 29,2014
The Amman prosecutor general has dismissed the case against Al Ghad Editor-in-Chief Jumana Ghneimat, who was summoned last week for publishing an article in September criticising the behaviour of some Lower House members, the newspaper's lawyer, Mohammad Qteishat, said Wednesday.
Newsletter
Get top stories and blog posts emailed to you each day.