You are here
Money not an issue for UNICEF at present — official
By Khetam Malkawi - Nov 22,2015 - Last updated at Nov 22,2015
AMMAN — UNICEF has no financial difficulties for now in accommodating all school-age Syrian refugees in Jordan in formal education, but the problem remains with school capacity, a UNICEF spokesperson said Sunday.
Samir Badran, UNICEF Jordan communication specialist, noted that in order to meet Syrian children's needs and avoid interruption in school enrolment, the UN agency is targeting more students to join its Makani (my space) centres that provide informal education for refugees in Jordan.
According to Badran, currently there are 152 Makani centres across the Kingdom, including in refugee camps, and "our target is to reach 220 centres by the end of this year."
Makani is a comprehensive approach through which UNICEF provides life skills training, non-formal education and protection services for vulnerable children.
Although the centres are open to children of any nationality in Jordan, most of those attending classes are Syrian refugees, according to UNICEF.
Badran said children and young people with interrupted formal education join these centres to catch up on what they have missed.
He explained that the curricula taught in these centres are developed under the supervision of the Education Ministry to enable children to catch up with students their age in formal education.
According to a UNICEF report, 325,395 of the 658,175 Syrian refugees registered with the UNHCR are children under the age of 18.
Jordanian schools reopened in September 2015 to welcome approximately 143,000 new and returning Syrian students, a 10 per cent increase in refugee enrolment from the last academic year.
Around 98 schools, mostly in Amman and the northern governorates, operate on the double-shift system to accommodate Syrians.
At the Makani centres, 41,636 children are attending life skills classes, 46,370 attend informal education classes and 116,063 the protection sessions.
However, the UN agency's target, according to Badran, is to reach 63,578 students in the life skills classes, 69,260 in informal education and 141,823 in the protection sessions.
Related Articles
Oct 11,2016
AMMAN — A Makani centre was opened at the Zaatari Refugee Camp on Tuesday, operated by UNICEF and funded by Japan, the Japanese embassy said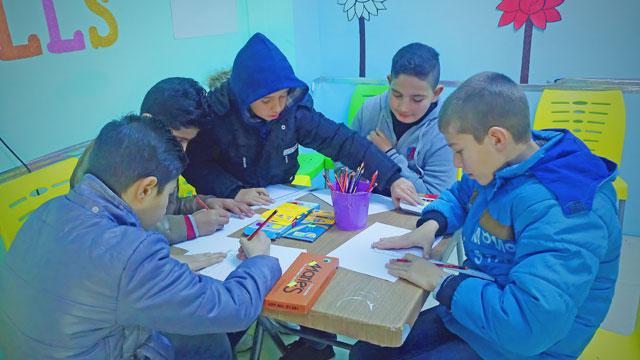 Feb 06,2018
AMMAN — While most children get back on their routines after the winter break, 14-year-old Syrian refugee Nizar strives to return to school
Nov 29,2015
AMMAN — UNICEF is committed to enabling all children on Jordan's soil to access education and learning, but both the Jordanian government an
Newsletter
Get top stories and blog posts emailed to you each day.