You are here
MMAG's open space welcomes visitors after pandemic pause
By Tanya Raghu - Apr 02,2023 - Last updated at Apr 02,2023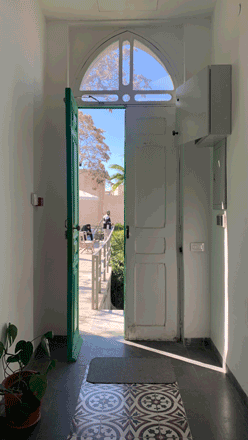 The MMAG Foundation reopened its doors to the public this spring after a two-year hiatus due to COVID-19 (Photo by Tanya Raghu)
AMMAN — After a two-year long hiatus due to the COVID-19 lockdown, the MMAG Foundation in Jabal Amman reopened its doors to visitors this spring. Founded in 2017, it serves as a space for artist residencies, workshops and public events.
The space was established by patrons Sirine and Ahmad Abu Ghazaleh and features three historical buildings and a library. In addition, the complex has a commercial building as well as studio and shared accommodation for in-residence artists. Further, there are four initiatives hosted at MMAG: The screening room, "taghmees" (a social kitchen), "makana" (architectural and urban planning collective) and scene (a theatre club).
Currently, the foundation is led by artist and curator Paola Farran, who assumed her position as the director of the institution in January. She is a founding member of the Remote Closeness collective in Amman.
"We treat it as a public space and a public park," Farran told The Jordan Times. "We are welcoming anyone to come through the space, and it's open to everyone."
Recent activities have included a series of screenings from the Sudanese Film Group archive followed by a discussion over the course of five weeks. The series was led by Aboud Rawajbeh, the foundation's facilities and programme coordinator, who has a focus on filmmaking and cinema.
"The work of the Sudanese Film Group was a launching point to discuss the archival of film, existence of film clubs, and the independent film scene in the Arab region," Rawajbeh told The Jordan Times.
In addition, the foundation is accepting applications for artistic residencies to take place from April to October this year. The opportunity is available to individuals who work in any of the visual arts, writing, cultural or art-based research, sound and performance. Most visiting artists are from Jordan or other countries in the region, who benefit from the foundation's atmosphere, resources and programming.
"Last year, we hosted over 30 artists, and this year, we will host 10 during a seven-month residency and numerous other artists who will be here on shorter terms," Farran added.
Recent public events have included workshops where participants learned to bind physical and electronic books, write literary narratives about the city of Amman and gain familiarity with the techniques of investigative journalism. In addition, this Saturday, the library will host a volunteering session to invite those interested to catalog and index books to prepare for its reopening.
"We want this space to be inclusive, and we want neither artists nor the audience to feel intimidated by it," Farran said. "We want to encourage people to reach out, come to the space, have conversations and meet with other artists."
Newsletter
Get top stories and blog posts emailed to you each day.