You are here
Mentoring event boosts young Jordanian startups
By Camille Dupire - Aug 18,2018 - Last updated at Aug 18,2018
Entrepreneurs and business experts exchange ideas during the 'Mix N' Mentor 2018' event at ZINC on Thursday (Photo courtesy of Endeavour Jordan)
AMMAN — A dozen business experts on Thursday came together to discuss specific startup challenges with local entrepreneurs, aiming to form a long lasting bridge between established industry experts and aspiring ones.
Mix N' Mentor was initiated by Wamda around five years ago, with the first Amman edition taking place in 2012. According to Wamda Director of Community and Data Management Kamel Asmar, the event was established to "better understand and focus on the aspects of various cities' ecosystems around the Arab world".
"Through time, Wamda has become a renowned and highly experienced actor in the entrepreneurial ecosystem, which allows us to have rich insights into the mechanics of local business environments, in addition to a huge and unparalleled database in the region, with a very broad community of entrepreneurs and businesspeople," he told The Jordan Times on Saturday.
This year's Amman edition, which was organised by Wamda at the Zain Innovation Campus (ZINC) in partnership with Bank Al Etihad and Zain, witnessed the attendance of prestigious businesspeople, including founder and CEO of Tamatem Hussam Hammo, founder Cash Basha Fouad Jeryes, CEO of Innovative Startups and SMEs Fund Mohab Murrar, among many others
"It is important to focus on the concept of leadership for entrepreneurs," said Rasha Barakat, chief innovation and human capital officer at Zain in her opening speech, stressing the
crucial need for connections and strong networks among entrepreneurs.
The event, which has been conducted over 30 times across the region since 2012, has seen some 74 per cent of past participants record a direct improvement on their business, according to Wamda.
Starting off with a panel on the different support and funding initiatives being launched in Jordan, and the increasingly important part banks are playing in the country's startup ecosystem, the event continued with a number of thematic discussions between entrepreneurs, investors, government officials and corporate representatives.
"Mix N' Mentor is a one of a kind format, different from a traditional conference where people listen to presentations about certain subjects. In our events, we focus on discussions and interactive exchanges centred on topics that are extremely important to entrepreneurs, yet, still under-addressed by the business community," Asmar explained.
Topics covered included fundraising, customer acquisition and business to business, sourcing and retaining talent, scaling to the Gulf from Amman and starting up, with noted speakers chosen to "ensure the dynamism and inclusivity of roundtables", he noted.
Saddam Sayyaleh, founder and CEO of ILearn, an educational NGO that works to establish safe spaces for disadvantaged children and youth to encourage innovation, intellectual growth, and critical thinking, said it is the second year he participates in the event, which "he really likes and finds useful".
"Every year, Wamda brings the new entrepreneur ecosystem together, with new participants every time. This year, I got to see new faces, meet new people and hear of startups that I had never heard of," he told The Jordan Times on Saturday, adding "during our roundtable, we exchanged on our challenges, the problems we face as young startups and sustainability".
"We realised that we have all faced the same kind of challenges but, with this event, we all got together and began exchanging knowledge, networking, and even starting partnerships together," he continued, noting that his love for this event stems from "the possibilities it gives to start ups to let people know about the work that they do and look for potential partnerships, in addition to gaining knowledge in terms of problem solving".
"This year's event put forward the importance of creating deeper conversations with the wider ecosystem, as new initiatives emerge in Jordan that are detrimental to the country's startup ecosystem," Wamda said in a statement, adding "topics of discussion were selected based on the most relevant and pressing issues within the city's tech ecosystem."
Mix N' Mentor allows entrepreneurs to view how common challenges can be and brainstorm together solutions to overcome them. "It is not only about sharing your experience or challenges but also knowing that you are not the only one who thinks he is drowning while trying to scale their business," a participant in the event said.
Later in the day, technical workshops were conducted by experts with the aim of helping business founders gain critical skills, such as cashflow management, branding and communications, agile web development, among others.
"The networking aspect in this event is very enriching to one's experience. As it brings people from different industries and countries together, you get to talk to various mindsets. And, if you listen closely you will actually get to learn tiny things from these people's experiences," said a former participant in the event, adding: "For me, it is always a learning process so you have to listen carefully in order to learn and get what you want."
Related Articles
Aug 25,2018
AMMAN — For the three founders of impACT, a platform promoting a global movement towards social impact through entrepreneurship, "anyone wit
Nov 17,2018
AMMAN — Seventy entrepreneurs representing Jordanian start-ups came together this weekend to take part in a three-day idea development chall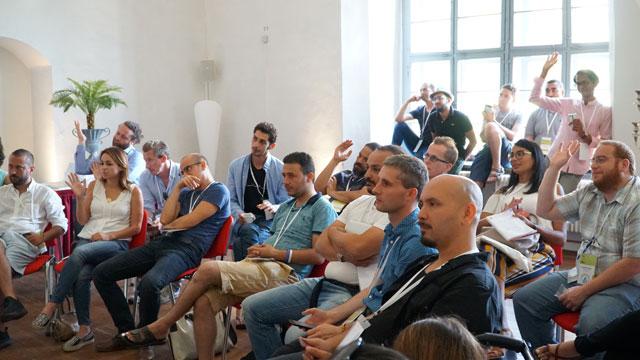 Oct 26,2017
AMMAN — "enpact is about changing the narrative of how people view the Middle East.