You are here
Lower House reviews Audit Bureau's reports
By JT - Apr 22,2017 - Last updated at Apr 22,2017
AMMAN — The Lower House places great importance in drafting laws to improve the judiciary, Speaker Atef Tarawneh said on Saturday, noting that deliberation on the bills will begin under the Dome in Sunday's session.
Following the issuance of the fourth report on the House's performance, issued bimonthly, Tarawneh described the outcomes reached by the Chamber in discussing Audit Bureau's reports, covering the period between 2009 and 2015, as an "important step towards administrative and financial reform".
Discussion of the bureau's reports encouraged MPs to improve monitoring practises, the speaker said, the Jordan News Agency, Petra, reported.
Following the reports' discussion, the House referred three enquiries related to ministers to the prosecutor general, while referring other enquiries to the Jordan Integrity and Anti-Corruption Commission's.
The House report, covering the period since the start of the Parliamentary session on November 3, showed that the House had endorsed 24 laws.
Deputies directed 790 questions to the government, which answered 524 of them, marking a 66 per cent response rate.
The Chamber's committees are currently reviewing 57 laws, 17 of which are under discussion by the Economy and Investment Panel, 16 by the Legal Committee and seven by the Administrative Committee, Petra added.
The House held 60 sessions, divided into 50 for legislation and 10 for monitoring purposes. It presented five enquiries to the government, with four of them directed to the prime minister.
In the same period, House panels held 372 meetings, 55 by the Finance Committee, 36 by the Legal Committee and 35 by the Committee on Palestine.
MPs presented 102 motions in the same period, 48 of which were answered, constituting a 47 per cent answering rate, while deputies presented four proposals for laws .
Deputies also asked for three discussions; one related to the Royal Jordanian airline to discuss share trading; and another discussing electricity privileges and the increase of power bills.
The third discussion request was related to the gas deal with Israel, with the House voting that discussion of the deal was "invalid".
MPs also received five complaints from citizens, four of which were referred to committees and one to the government.
Related Articles
Mar 21,2016
AMMAN — For the first time in almost seven years, MPs on Tuesday will discuss the Audit Bureau's report in full at a Lower House session, af
Apr 12,2016
AMMAN — Prime Minister Abdullah Ensour on Tuesday emphasised that he never used his clout to push for the appointment of his relatives, agai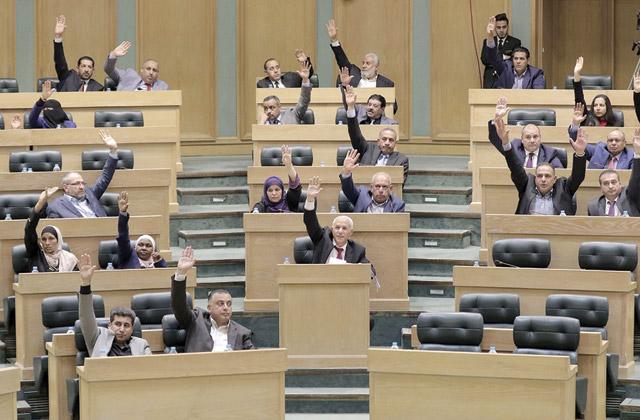 Apr 18,2017
AMMAN — A sweeping House majority on Tuesday voted to refer three cases of suspected corruption involving three former ministers of agricult
Newsletter
Get top stories and blog posts emailed to you each day.