You are here
Lockdown fears loom large in wake of surge in COVID infections
Private sector representatives call on gov't to consult measures with stakeholders
By Bahaa Al Deen Al Nawas - Feb 22,2021 - Last updated at Feb 23,2021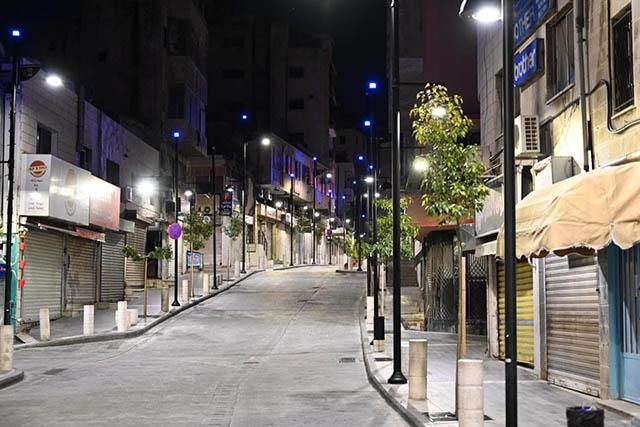 A view of downtown Amman during a nationwide curfew in mid-March (JT file photo)
AMMAN — As coronavirus infections have recently been on the rise, fears of closures have gripped the commercial sector, with calls on the government to coordinate with the private sector before taking any decisions regarding the matter.
The general assembly of the Jordan Chamber of Commerce (JCC), during its annual meeting held virtually on Sunday, called on the government to coordinate with private sector representatives regarding any decisions issued related to closures or curfew hours as they will negatively impact commercial sectors.
"We realise that public health is extremely important, but the economy also impacts the entire Kingdom, whether in regard to revenues or the continuity of the economic life in general, so we should consider striking a balance between safeguarding public health and sustaining the economy," Nael Kabariti, chairman of the board of JCC, told The Jordan Times on Monday over the phone.
"Some sectors have been shut down since last March, and the government is hinting that it may close others too, and perhaps reimposing Friday lockdowns or increasing curfew hours," Kabariti said, adding that "if the government believes that the private sector is the core of the problem, it should clarify why".
The private sector has over 150,000 institutions with around a million employees, he said, noting that they alone cannot be blamed for the spread of the virus.
"It remains unclear why only the private sector is targeted whenever infections rise," he said.
Kabariti noted that there are a lot of phenomena that need to be studied, which also contribute to increasing infections.
Head of the Amman Chamber of Commerce's board of directors Khalil Haj Tawfiq in a social media post also called for the review of government measures to reduce infections. The post came after recommendations from the National Epidemiological Committee to reimpose Friday lockdowns and increase curfew hours for businesses and public movement.
Newsletter
Get top stories and blog posts emailed to you each day.