You are here
'LNG supply agreement with Shell to be finalised soon'
By Mohammad Ghazal - May 05,2014 - Last updated at May 05,2014
AMMAN — Jordan is expected to sign an agreement with Royal Dutch Shell before the end of June to supply liquefied natural gas (LNG) to a terminal in Aqaba, a senior official said on Monday.
"The Council of Ministers approved signing a final agreement with Shell to supply the LNG terminal in Aqaba… We previously signed a memorandum of understanding with the energy giant and we will start looking into the final details of the agreement," Energy Minister Mohammad Hamed told The Jordan Times over the phone.
The minister added that a specialised committee will meet with Shell officials in the next few weeks to draft the final agreement, which is expected to be signed next month.
Under the five-year agreement, the company will supply the $65 million terminal with LNG, according to the minister.
Shell will provide 590 million cubic feet of LNG gas per day to a floating storage re-gasification unit that the government recently rented and then the gas will flow into the terminal.
Liquefied natural gas is expected to start flowing into the terminal at the end of 2014, according to Hamed, who noted that construction work on the Aqaba terminal is going as scheduled and that the facility is expected to be operational in November this year.
Jordan, which annually imports about 96 per cent of its energy needs, seeks to diversify its energy sources following repeated cuts in natural gas supplies from Egypt, which forced the Kingdom to buy heavy fuel and diesel for power generation.
In previous remarks to The Jordan Times, the minister explained that although importing liquefied natural gas is more expensive than the natural gas Jordan used to get from Egypt, LNG remains 30-35 per cent less expensive than diesel and heavy fuel.
Related Articles
Apr 16,2014
The door is open for local and international companies to submit bids to the Energy Ministry to develop the Risheh gas field near the border with Iraq after British Petroleum ended its project there, according to a senior official.
Jan 21,2015
Royal Dutch Shell will start supplying liquefied natural gas (LNG) to a terminal in Aqaba in July, Minister of Energy and Mineral Resources Mohammad Hamed said Wednesday.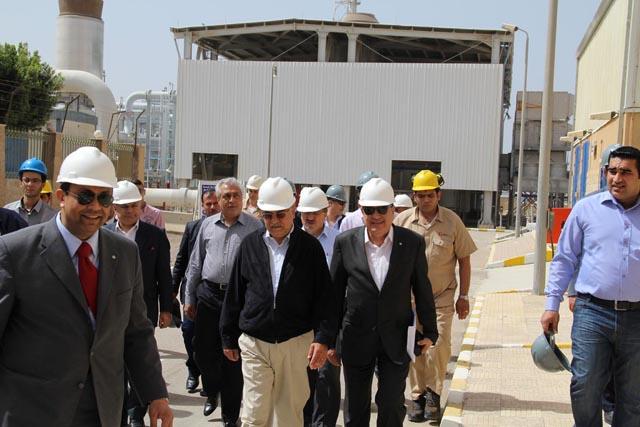 Mar 31,2014
The liquefied natural gas (LNG) terminal in Aqaba will give a boost to Jordan's energy sector, a senior official said Monday.