You are here
Lecture offers a bird's eye view of aerial archaeology in region
By Saeb Rawashdeh - Feb 14,2022 - Last updated at Feb 14,2022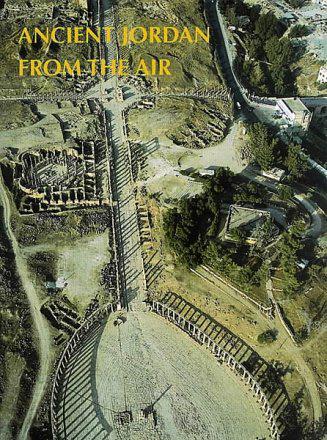 The cover of the book (Photo courtesy of Robert Bewley)
AMMAN — A recent lecture at the Council for British Research in the Levant shed light on emergence and growth of Aerial Archaeology in the Middle East.
In its early days, aerial photography was used in the Middle East by British and French researchers and intelligence officers, said Professor Robert Bewley from Oxford University during the lecture titled "Aerial Archaeology and Remote Sensing".
He noted that, however, later , as aerial archaeology progressed on, academics began to partake in documentation of the MENA region through aerial photography.
Taking a course in Aerial Archaeology at The Manchester University in 1975, Bewley said he became involved with the cultural heritage of the Middle East.
French archaeologist Antoine Poidebard (1878-1955) was a pioneer of Aerial Archaeology, noted Bewley.
After being involved in the aerial survey of Britain, Bewley teamed up in 1997 with Professor David Kennedy who was preparing a book, titled "Ancient Jordan from the Air", on Roman desert frontiers in Jordan.
"We thought it'll be a relatively short project and promised that we might write a book as well if we got permission to fly," Bewley said,
However, what initially looked like a short-term project is still an ongoing initiative, he noted.
A purpose of the book was to expand the knowledge of archaeology and cultural heritage in Jordan, and to show that although Petra is one of the most spectacular sites in the world, there are other less known sites that deserve to be highlighted and explored.
"Drones, satellites, airplanes and helicopters are all complementary tools in terms of the imagery," Bewley said, noting that archaeologists use all available sources to get sufficient information about ancient sites and monuments.
"Unfortunately, there is a huge amount of destructive activity even in the most remote places," the professor said.
"Sometimes bulldozers threaten archaeological sites. One of the main agents of destruction in the Middle East and the North Africa is the expansion of the agriculture because of the population growth," he said. He also stressed that the main agents of destruction are the expansion of towns, the impact of climate change, looting and military conflicts.
"The works done in Jordan helped develop Endangered Archaeology in the Middle East and Africa project in 2015 to try and assess how many archaeological sites could be recorded from the satellite imagery and how many are under threat," Bewley noted.
The scholar said that over 300,000 sites have been recorded.
"The great thing about aerial archaeology is that it's non-destructive and it can monitor archaeological sites without damage. It'll be wonderful if that could be set up in Jordan," Bewley said.
Newsletter
Get top stories and blog posts emailed to you each day.