You are here
Law to combat hate speech could harm freedom of expression, activists warn
By Suzanna Goussous - Jan 09,2017 - Last updated at Jan 10,2017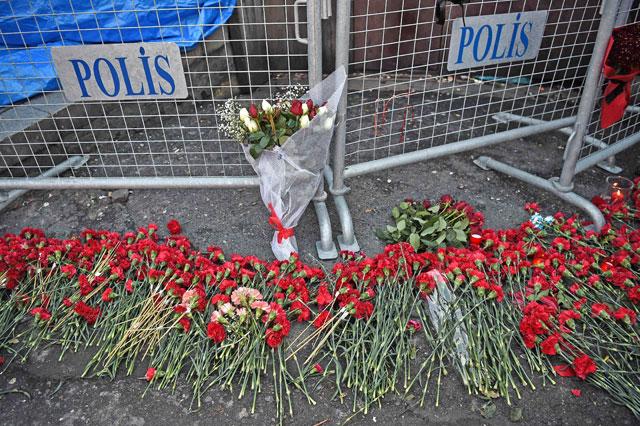 Flowers are laid in front of the Reina nightclub in Istanbul last Monday, one day after a gunman killed 39 people, including Jordanians, in a rampage at the upscale club and restaurant (AFP photo)
AMMAN — Jordanian social and political activists on Monday criticised potential government plans to draft a law to specifically combat hate speech, arguing that it could "limit freedom of expression and speech".
On Thursday, Minister of State for Media Affairs and Government Spokesperson Mohammad Momani said the government is exploring how to address hate speech on social media, adding that it is considering a new law to prevent social media networks being used to spread violence.
The government's move came on the heels of comments and posts on social media directed at the Jordanian victims of the Istanbul nightclub attack, slandering them and their families.
However, activists say that any new law would limit freedom of speech and expression in the Kingdom.
Basel Burgan, an environmental activist, said the law would "increase the gap" between the authorities and the people.
"People cannot differentiate anymore between abuse and freedom of expression," he said.
Burgan told The Jordan Times that many activists use social media as a platform to express their personal opinions on political and social issues around the world.
"They have the right to address issues and express their own opinions about them," he said.
Burgan added that extremist ideologies are created when debate is not an option for people.
"They start thinking of issues inwards, instead of outwards, which allows more terror attacks and extremist thoughts to take over," he argued.
Human rights activist Fadi Qadi, in a paper published by the National Independent Team for Human Rights, wrote that the increase in hate speech on social media platforms "cannot be addressed through adding more rules and restrictions".
The spread of hate speech, according to Qadi, is caused by people's frustration, especially young people who were born into the "deteriorating economic situation", and it is exacerbated by the "failure to address political reform".
Referring to the religious, political and sectarian hate speech and violence the Kingdom has witnessed over the recent years, the commentator wrote that this is due to an "absence of freedom of expression".
Qadi argued that the solution to the increase in abuse and hate speech on social media would be the removal of laws that "repress" speech freedom.
Such laws, according to the activist, include Article 3, Paragraph (b) of the amended Anti-Terrorism Law.
The law stipulates a 15-year jail sentence for those who question or harm the Kingdom's relations with another country, considering it a "crime".
Qadi said several arrests of journalists and activists have been recorded "just because they expressed their views on some countries' policies", including policies which violate the rights and freedoms of Jordanian citizens.
He added that in order to counter hate speech and ensure the freedom of Jordanians, any plans and partnerships must include cooperation between the government, the public and civil society organisations, which emphasise the role of the media in addressing these issues.
University student and activist Ayah Khalil said that although more people are using social media platforms as a "podium" to express their views, "hatred and racism are becoming prevalent".
"The problem is with the failure to provide people with platforms to discuss problems and debate them face-to-face," she added.
But Ahmad Abu Zina, a 22-year-old social media user, said applying the law to all people might eradicate the problem of extremism and hate speech.
"Hate speech and extremist ideas are taking up more space than ever nowadays. I think by adding a law to limit these acts and comments on social media, we can solve the problem over time," he told The Jordan Times.