You are here
Kingdom pledges support of Jerusalem church at UNESCO
By JT - Oct 18,2017 - Last updated at Oct 18,2017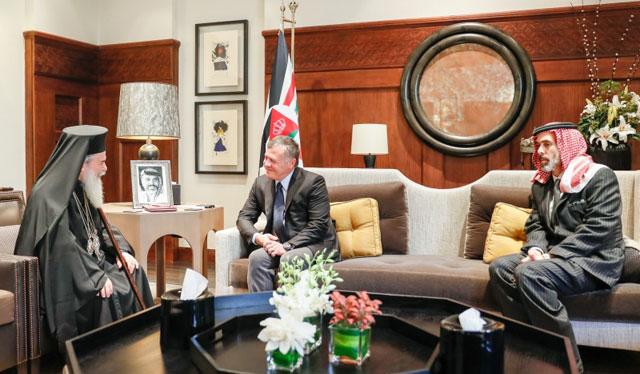 His Majesty King Abdullah meets with Patriarch of the Holy City of Jerusalem, All Palestine and Jordan Theophilos III in Amman on Wednesday (Photo courtesy of Royal Court)
AMMAN — His Majesty King Abdullah and Patriarch of the Holy City of Jerusalem, All Palestine and Jordan Theophilos III on Wednesday discussed King Abdullah's efforts in the protection of Islamic and Christian holy sites in Jerusalem.
They also reviewed the latest developments regarding "blatant violations" of church property and Islamic awqaf in the occupied territories, according to a Royal Court statement.
King Abdullah — in the presence of HRH Prince Ghazi, King's Special Adviser for Religious and Cultural Affairs and Personal Envoy of His Majesty — expressed Jordan's keenness on the Palestinian unity in facing all challenges imposed by Israel on Jerusalemites and the Palestinians in occupied territories.
His Majesty told the patriarch that Christian holy sites receive the same level of attention and care as the Islamic ones.
The King renewed Jordan's rejection of any threats to the historical status quo in Jerusalem, which is based on co-existence and peace and guarantees churches the right to administrate their assets.
The Monarch noted it is a duty for Jordan, under the Hashemite Custodianship over Islamic and Christian sites in Jerusalem, to continue efforts to maintain these shrines and defend the churches' properties during all international events and future meetings of UNESCO.
King Abdullah stressed that any attempt to confiscate Christian assets is null and void and must be stopped.
In August, Theophilos III vowed to fight back accusations over the sale of church properties in Jerusalem and fight back an Israeli court ruling that upheld a set of alleged real estate deals between the Greek Orthodox Church and the Israeli organisation Ateret Cohanim for two hotels near the Jaffa Gate in Jerusalem's Old City, reports have said.
At his meeting with the King, the patriarch said that Jerusalemites, Christians and Muslims, highly appreciate the Hashemite concern for their cause, especially that the Palestinian issue is historically the top priority of His Majesty in all Arab and international arenas.
He added that King Abdullah's efforts in safeguarding the Christian presence in Jerusalem have been and are still a source for strength and hope for Jerusalemites as they resist Israeli policies. The church leader expressed appreciation for His Majesty's support of the patriarchate's efforts to end the Israeli violations, especially with regard to the sales issue, dubbed as the Jaffa Gate case.
Theophilos III noted that the patriarchate is cooperating with all churches to cancel an Israeli proposed draft law that stipulates confiscating church lands and abort attempts by occupation Israeli entities to seize properties at the Omar Bin Al Khattab roundabout at the Jaffa Gate.
The patriarch also briefed His Majesty with the aims of a tour he has embarked on to some counties seeking their intervention to stop Israeli violations in Jerusalem and other occupied lands and reverse any Israeli measures involving the seizure of church assets.
Royal Court Chief Fayez Tarawneh and King's Office Director Jafar Hassan attended the meeting.
Related Articles
Jan 03,2018
AMMAN — HRH Prince Ghazi, the King's special adviser for religious and cultural affairs and the personal envoy of His Majesty King Abdullah,
Nov 07,2015
AMMAN — Patriarch Theophilos III, patriarch of the Holy City of Jerusalem and all Palestine and Jordan, and president of the council of chur
May 27,2021
AMMAN — Patriarch Theophilos III, Patriarch of the Holy City and all Jordan and Palestine, on Wednesday expressed appreciation of the Royal