You are here
Kingdom expected to witness light rainfall today
Civil Defence Department dealt with 147 house floods on Friday
By Bahaa Al Deen Al Nawas - Nov 16,2019 - Last updated at Nov 16,2019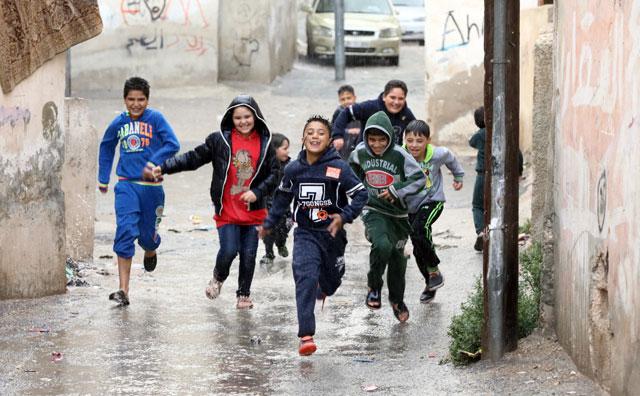 Children are seen enjoying the rain over the weekend (Photo by Osama Aqarbeh)
AMMAN — The Kingdom on Friday and Saturday witnessed thunderstorms and unstable weather conditions, with a chance of light rainfall on Sunday, according to the Jordan Meteorological Department (JMD).
The JMD also forecast south-easterly brisk winds on Sunday and warned of low visibility in badia areas due to dust formation.
The Greater Amman Municipality (GAM) announced a "medium state of emergency" on Friday, urging the public to contact the emergency lines at 065359970/065359971 or on mobile at 0798166789 in case of emergency situations, the Jordan News Agency, Petra, reported.
The Civil Defence Department (CDD) announced on Friday that it has dealt with 147 house-flooding cases and pumped out accumulated water from the homes.
It also attended to 42 people who were trapped in their vehicles during the rains, transferring them to safer areas, Petra reported.
The CDD also urged the public to call 911 in case of emergency, in addition to heeding any advice issued by the authorities to deal with inclement weather conditions.
On Friday the JMD posted an interactive post asking people about weather conditions in their areas, to which citizens replied with exact locations and weather updates.
Also on social media, users commended the efforts of the authorities and urged GAM in its preparations for the winter season to avert flooding cases.
The weather is expected to remain moderate to cold on Sunday in Amman, where the JMD forecasts temperatures to reach a high of 22°C during the day and a low of 10°C at night.
The weather department also predicts temperatures to range between 23°C and 15°C in Zarqa on Sunday and 21°C and 5°C in Madaba.
In Aqaba, the weather remains moderately to relatively hot as the JMD forecasts temperatures in the coastal city to range between 30°C and 18°C on Sunday.
In mid-October, GAM held a field tour for journalists from various media outlets to showcase its preparations for the upcoming winter, during which it highlighted water drainage infrastructure and the cleaning of tunnel and box culverts.
Newsletter
Get top stories and blog posts emailed to you each day.