You are here
King receives US delegation from legislative, executive branches
Meeting covers deep-rooted ties as delegates reaffirm US' support for Jordan
By JT - May 04,2021 - Last updated at May 04,2021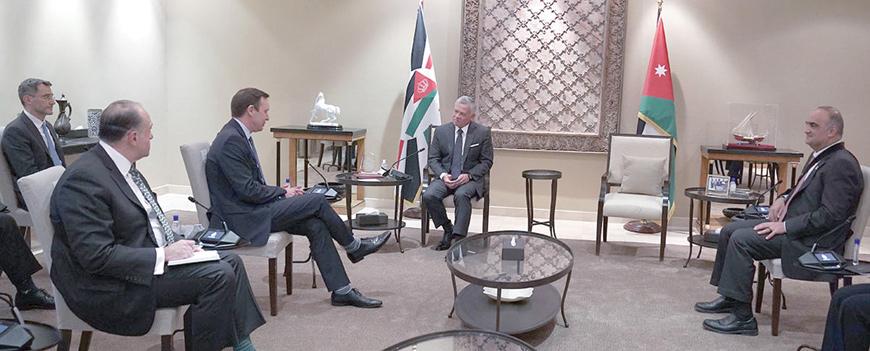 His Majesty King Abdullah meets with a high-level US delegation, headed by Senator Chris Murphy, on Monday (Photo courtesy of Royal Court)
AMMAN — His Majesty King Abdullah on Monday received a high-level US delegation, headed by Senator Chris Murphy (D- Connecticut), and which included National Security Council Coordinator for the Middle East and North Africa Brett McGurk, US Special Envoy for Yemen Tim Lenderking, and officials from the state and defence departments.
The meeting covered the deep-rooted ties of friendship and the strategic partnership between Jordan and the United States, with King Abdullah expressing appreciation of President Joe Biden and Secretary of State Antony Blinken for reaffirming US support for Jordan in recent phone calls, according to a Royal Court statement.
For his part, Senator Murphy stressed the importance of US-Jordanian ties, noting his keenness to visit Jordan — as chairman of the Senate Foreign Relations Subcommittee on Near East, South Asia, Central Asia, And Counterterrorism — and maintain close coordination between the two countries on bolstering security and stability in the region, in line with Jordan's pivotal role in this regard.
The senator said he is heading a unique delegation that includes representatives of the legislative and executive branches in the United States, with officials from relevant departments that matter in the US-Jordanian relationship.
The delegates reaffirmed the United States' support for Jordan and the measures it has taken to maintain its security and stability, commending the Kingdom's efforts in hosting refugees.
Discussions at the meeting covered issues of mutual concern, foremost of which is the Palestinian cause, with His Majesty reiterating the need to step up efforts to relaunch Palestinian-Israeli negotiations to reach just and comprehensive peace on the basis of the two-state solution, guaranteeing the establishment of an independent Palestinian state on the June 4, 1967 lines, with East Jerusalem as its capital.
The meeting also addressed efforts to reach political solutions to crises in the Middle East, and the importance of joint efforts to counter the economic, social, and security implications of the COVID-19 pandemic.
Newsletter
Get top stories and blog posts emailed to you each day.