You are here
King receives EU Commission president, urges pushing for immediate Gaza ceasefire
His Majesty warns against deterioration of humanitarian situation in Gaza 
By JT - Nov 20,2023 - Last updated at Nov 20,2023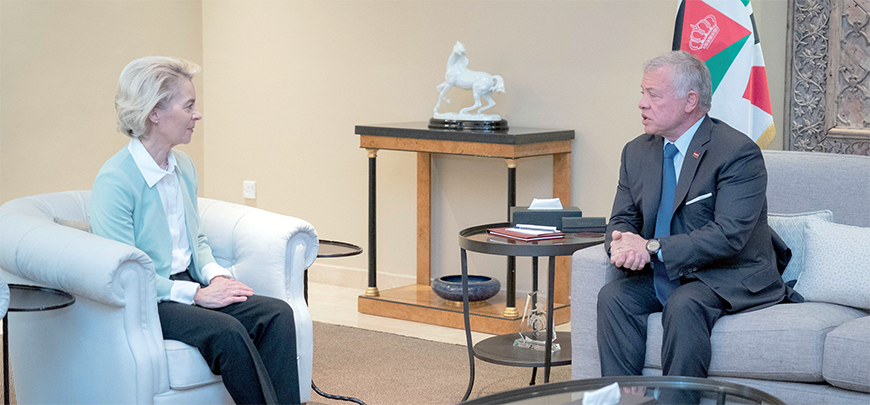 His Majesty King Abdullah  receives EU Commission President Ursula von der Leyen and stresses the immediate need for a ceasefire in Gaza, while protecting civilians and ensuring uninterrupted delivery of humanitarian aid  (Photo courtesy of Royal Court)
AMMAN — His Majesty King Abdullah on Sunday received European Commission President Ursula von der Leyen, as part of the intensive efforts to stop the war on Gaza.
King Abdullah reiterated the call for an immediate ceasefire in Gaza, protecting civilians, and allowing the uninterrupted delivery of humanitarian aid to the Strip, according to a Royal Court statement.
His Majesty warned against the deterioration of the humanitarian situation in Gaza, calling on the international community to stop this humanitarian crisis, in line with international law and the UN Charter.
The King warned that Israel's continuation of its hideous war on Gaza and its illegal violations in the West Bank and Jerusalem will push the entire region into an explosion, the statement said.
His Majesty reaffirmed the need to work seriously towards creating a political horizon for the Palestinian issue to reach just and comprehensive peace, on the basis of the two-state solution, highlighting the European Union's role in this regard.
For her part, President von der Leyen expressed appreciation of Jordan's role in providing humanitarian support for civilians in Gaza, especially through the military field hospital, the statement said.
She commended the King's political efforts in pursuit of a solution to the Palestinian issue, stressing the need for peace on the basis of the two-state solution.
The European Commission president expressed rejection of any attempt to displace the Palestinians, calling for preserving the historical and legal status quo in Jerusalem, according to the statement.
The two sides also denounced Israeli settler violence in the West Bank.
Deputy Prime Minister and Foreign Minister Ayman Safadi and Director of the Office of His Majesty Jafar Hassan attended the meeting.
Related Articles
Nov 07,2023
AMMAN — His Majesty King Abdullah on Tuesday met European Commission President Ursula von der Leyen in Brussels, and stressed the need to wo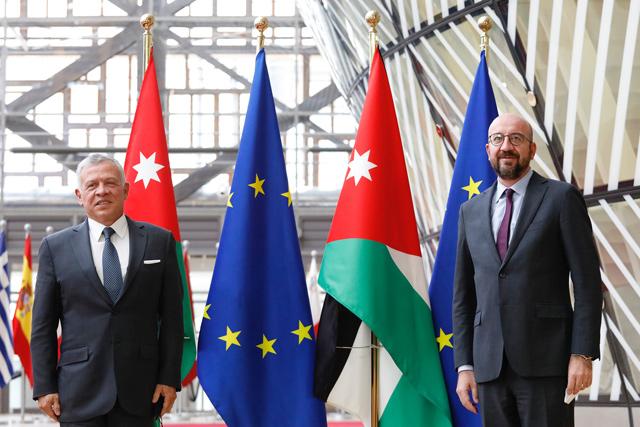 May 06,2021
AMMAN — His Majesty King Abdullah on Wednesday held two separate meetings with European Council President Charles Michel and European Commis
Oct 12,2023
AMMAN — His Majesty King Abdullah on Wednesday received a phone call from European Commission President Ursula von der Leyen, which covered