You are here
King meets Qatar emir in Doha
Meeting focuses on prospects for expanding political, economic and investment ties
By JT - Jan 25,2023 - Last updated at Jan 25,2023
His Majesty King Abdullah meets with Qatar Emir Sheikh Tamim Bin Hamad Al Thani in Doha on Wednesday (Photo courtesy of Royal Court)
AMMAN — His Majesty King Abdullah on Wednesday met with Qatar Emir Sheikh Tamim Bin Hamad Al Thani in Doha, with discussions covering the deep-rooted ties between the two countries.
The meeting focused on prospects for expanding political, economic, and investment cooperation between Jordan and Qatar, in the best interest of the two countries, according to a Royal Court statement.
King Abdullah and Sheikh Tamim stressed the importance of maintaining consultation and coordination between the two countries on issues of mutual concern and in service of Arab causes and regional stability and cooperation.
The meeting also covered regional and international developments, foremost of which is the Palestinian cause, with His Majesty reaffirming the need to step up efforts to revive peace prospects on the basis of the two-state solution, and stressing the importance of stopping all illegal Israeli measures that undermine this solution.
Deputy Prime Minister and Foreign Minister Ayman Safadi, Director of the Office of His Majesty Jafar Hassan, General Intelligence Department Director Maj. Gen. Ahmad Husni, Jordan's Ambassador to Qatar Zaid Lozi, and senior Qatari officials attended the meeting.
Earlier, the King was received at Doha International Airport by Sheikh Tamim and a number of senior Qatari officials, as well as Jordan's ambassador in Doha and senior staff from the embassy.
Related Articles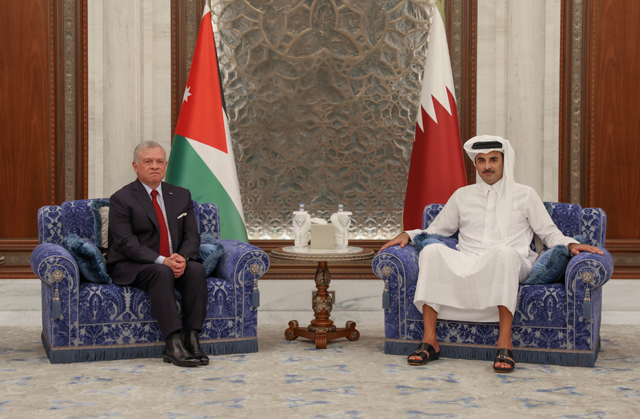 Nov 01,2023
AMMAN — His Majesty King Abdullah on Wednesday met with Qatar Emir Sheikh Tamim Bin Hamad Al Thani in Doha, and called on the international
Sep 15,2019
AMMAN — Zeid Lozi on Sunday presented his credentials to Qatari Emir Sheikh Tamim Bin Hamad Al Thani as Jordan's Ambassador Extraordinary an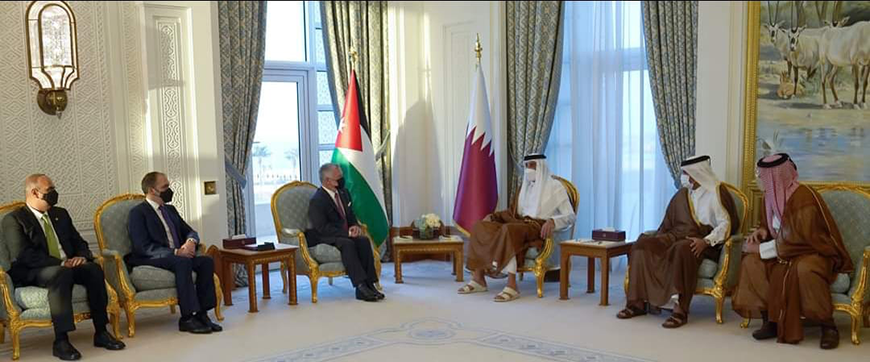 Oct 12,2021
AMMAN — His Majesty King Abdullah on Tuesday held talks with Qatar Emir Sheikh Tamim Bin Hamad Al Thani in Doha, covering the deep-rooted bi