You are here
King meets President Biden, thanks United States for ongoing support
His Majesty calls for stepping up international efforts to relaunch Palestinian-Israeli negotiations
By JT - May 13,2022 - Last updated at May 14,2022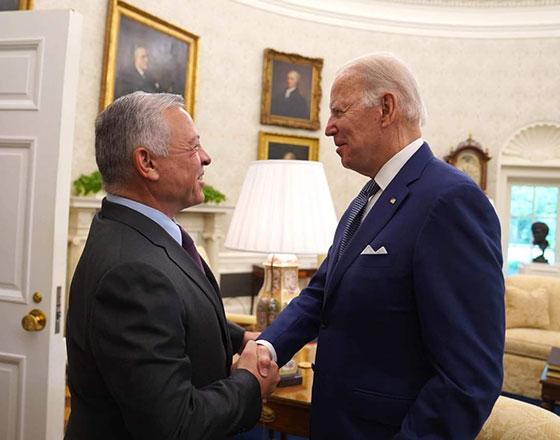 His Majesty King Abdullah meets with US President Joe Biden at the White House, during a meeting attended by HRH Crown Prince Hussein, on Friday (Photo courtesy of Royal Court)
AMMAN — His Majesty King Abdullah met with US President Joe Biden at the White House on Friday and reaffirmed the deep-rooted ties of friendship and the strategic partnership between the two countries.
At the meeting, attended by HRH Crown Prince Hussein, King Abdullah expressed appreciation for the United States' ongoing support for Jordan across all sectors, to enable the Kingdom to continue its economic development endeavours and its efforts towards regional stability, according to a Royal Court statement.
For his part, President Biden expressed full support for Jordan, under His Majesty's leadership, commending the Kingdom as a critical ally and a force for stability in the Middle East.
The meeting covered the latest regional and international developments, foremost of which is the Palestinian cause, with the King calling for stepping up international efforts to relaunch Palestinian-Israeli negotiations, leading to the establishment of an independent Palestinian state on the June 4, 1967 lines with East Jerusalem as its capital.
His Majesty stressed the United States' key role in this regard, warning against the cycle of violence in the Palestinian Territories due to unilateral Israeli measures.
President Biden expressed support for the two-state solution, noting the need for urgent mechanisms to stem violence and reduce tensions in the Palestinian Territories.
The president stressed the need to preserve the historic status quo at Al Haram Al Sharif, noting the crucial role of the Hashemite Custodianship in Jerusalem.
Discussions covered ways to deepen Jordanian-US ties and bolster economic and development cooperation, especially through regional integration in infrastructure, energy, water and climate projects, so that Jordan functions as a hub for this cooperation and investment.
The meeting also covered regional and international efforts to fight terrorism and reach political solutions to regional crises.
The crisis in Ukraine and its impact on international peace and security, as well as the global economy were also discussed.
The two sides stressed the importance of maintaining coordination and consultation to continue bolstering the historical partnership between Jordan and the United States.
Newsletter
Get top stories and blog posts emailed to you each day.