You are here
King to meet Obama in Washington Feb. 24
By JT - Feb 08,2016 - Last updated at Feb 08,2016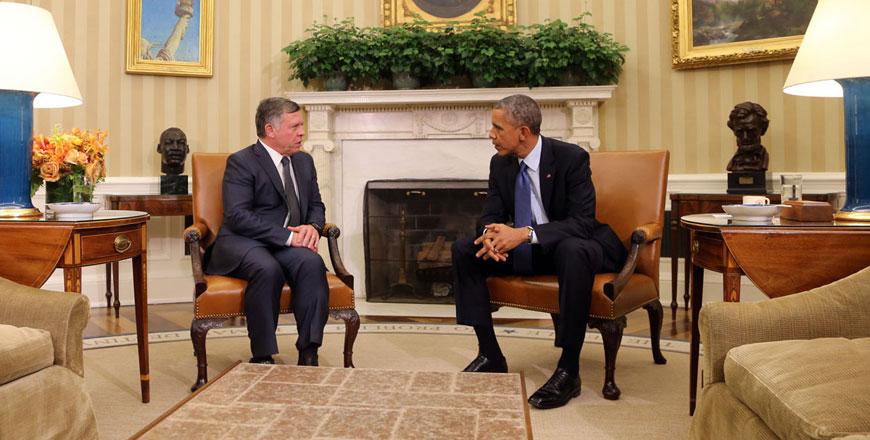 In this file photo from February 2015, His Majesty King Abdullah holds talks with US President Barack Obama in Washington (Photo courtesy of Royal Court)
AMMAN — His Majesty King Abdullah II is scheduled to meet US President Barack Obama at the White House on February 24.
Talks between the leaders are expected to cover the strategic partnership between Jordan and the United States, especially in light of the Kingdom's important role in the region, including its generosity in hosting Syrian refugees, a Royal Court statement said.
King Abdullah and President Obama will also tackle global efforts to combat terrorism and extremism across the Middle East, Africa, and the world. In addition, both leaders will review the latest developments on efforts to resolve the Syrian conflict through the political process.
Discussions on how to end the Israeli-Palestinian impasse and advance prospects for a two-state solution will also be on the meeting's agenda, according to the statement.
A White House statement said Monday the United States greatly values its enduring and strategic partnership with the Hashemite Kingdom of Jordan, as well as our shared initiatives on a broad range of diplomatic and security challenges.
During their meeting, the President and King Abdullah will discuss efforts to counter ISIL [Daesh], resolve the Syrian conflict, address the needs of Syrian and Iraqi refugees in Jordan and how the US can continue to support the Kingdom's generosity in hosting these refugees, and assist Jordan as it continues its political and economic reform initiatives.
"They will also discuss how best to advance prospects for a two-state solution to the Israeli-Palestinian conflict and other issues of mutual interest".
His Majesty visited the US last month and met with senior administration officials and key lawmakers. No meeting was scheduled with Obama, but the two leaders met briefly at Andrews Air Force Base in Washington, and agreed to meet in February.
Related Articles
Feb 25,2016
AMMAN — The summit His Majesty King Abdullah held with US President Barack Obama this week "testifies to the credibility and balanced positi
Feb 09,2015
His Majesty King Abdullah met on Sunday with Prince Charles, who is currently on a working visit to the Kingdom as part of a regional tour.
Dec 01,2014
His Majesty King Abdullah left on Monday for a working visit to Washington, DC, where he is scheduled to meet with US President Barack Obama on December 5.