You are here
King inaugurates Olivewood Film Studios
His Majesty attends ceremony marking 20th anniversary of Royal Film Commission
By JT - Sep 26,2023 - Last updated at Sep 27,2023
His Majesty King Abdullah, accompanied by HRH Crown Prince Hussein and HRH Prince Ali, inaugurates Olivewood Film Studios, Jordan's first specialised studio complex for filmmaking, on Tuesday (Photo courtesy of Royal Court)
AMMAN — His Majesty King Abdullah on Tuesday inaugurated Olivewood Film Studios, Jordan's first specialised studio complex for filmmaking, on the 20th anniversary of the Royal Film Commission (RFC).
King Abdullah toured the studios, which were built on an area of 47 dunums in Mugabalein area and include two sound stages with an area of 1,500 square metres each, a workshop for carpentry, ironwork, wardrobe, and graphics, as well as administrative offices, and supporting facilities and production offices, according to a Royal Court statement.
During the tour — on which His Majesty was accompanied by Their Royal Highnesses Crown Prince Hussein, Prince Ali and Princess Rym Ali — the King stopped at a location of a television series shoot and spoke with a number of Jordanian filmmakers there.
His Majesty also attended a ceremony held by the RFC to mark its 20th anniversary.
Speaking at the ceremony, Prince Ali, chairman of the RFC's Board of Commissioners, noted the commission's role in transforming Jordan into a regional filmmaking hub, with the support of public and military institutions, in line with His Majesty's vision.
His Royal Highness added that several factors collectively contributed to qualifying Jordan to become a major international filming destination, namely its diverse landscapes, the provision of technical and logistical support by the RFC, and the pool of Jordanian talent.
Also speaking at the ceremony, RFC Managing Director Mohannad Al Bakri highlighted the commission's achievements over the past two decades, including the production of 31 Jordanian films and six others with international partners, as well as facilitating the production of 112 foreign films and 29 international series in Jordan, on which Jordanians worked alongside some of the world's most renowned filmmakers.
Spending on the film industry in Jordan has reached $519 million (about JD368 million), according to Bakri, who noted that investing in the film sector is in line with Jordan's Economic Modernisation Vision (EMV), adding that the RFC's Jordan Film Fund has provided support for more than 150 feature-length and short films.
Bakri added that the RFC facilitated employment opportunities for about 134,000 people on various productions in Jordan, and engaged more than 5,695 trainees in educational programmes related to filmmaking around the Kingdom.
For his part, Olivewood Film Studios Chairman Raja Gargour said the establishment of the studios is in line with the goals of the EMV under the creative industries sector, adding that they are the first filmmaking facilities of their kind in the Kingdom that are up to international standards.
Gargour added that work is underway to set up a 67-dunum backlot for outdoor filming in Madaba Governorate's Manja area.
Related Articles
Jul 05,2022
AMMAN — Environment Minister Muawiyeh Radaideh on Monday met with CEO of the Royal Film Commission (RFC) Muhannad Bakri and discussed
May 26,2019
AMMAN — The Royal Film Commission (RFC) and the Aqaba Special Economic Zone Authority (ASEZA) on Sunday signed a cooperation agreement to or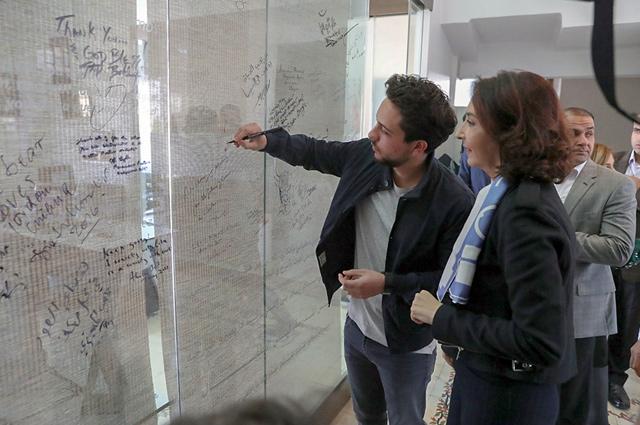 Dec 05,2018
AMMAN — HRH Crown Prince Hussein, the Regent, on Tuesday visited the Royal Film Commission (RFC) and reviewed its activities and services in