You are here
King directs government to hold local elections
Election body asked to be fully prepared to oversee process
By JT - Feb 12,2017 - Last updated at Feb 12,2017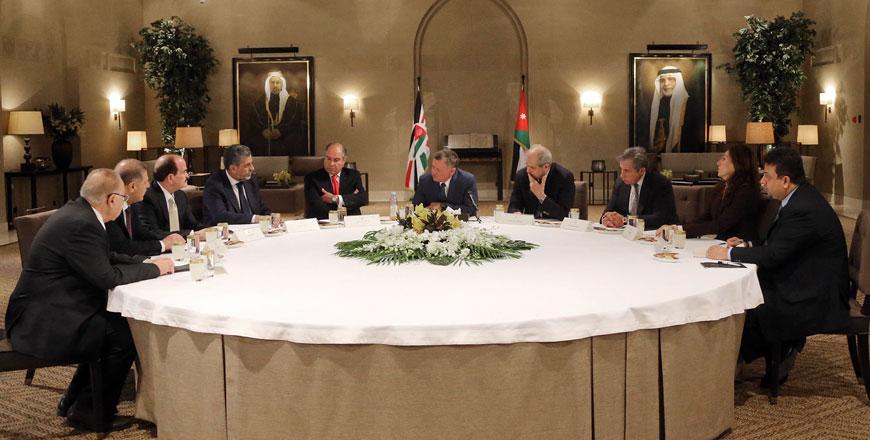 His Majesty King Abdullah meets with the president and members of the Independent Election Commission and senior officials on Sunday (Photo courtesy of Royal Court)
AMMAN — His Majesty King Abdullah on Sunday directed the government to conduct the municipal and governorate council elections.
During a meeting with the Independent Election Commission's (IEC) president and members of board of commissioners, the Monarch directed the government to extend "full support" to the IEC in supervising and managing the projected polls, according to a Royal Court statement.
The King also stressed that the IEC should be fully prepared to ensure the highest levels of impartiality and fairness in the municipal and governorate council polls, the statement said, underlining the need to capitalise on the accumulated election expertise of the oversight agency, which successfully supervised the 2016 parliamentary elections.
His Majesty also highlighted the importance of the decentralisation project in engaging citizens in the decision-making process and enhancing their role in defining the development needs of their regions, according to the statement.
The King also called for intensifying the awareness campaigns on the decentralisation project and the election mechanisms, underling in this regard the importance of coordination and cooperation among various state institutions.
Attending the meeting, Prime Minister Hani Mulki pledged that his government will extend all kinds of support to the IEC.
IEC President Khaled Kalaldeh handed His Majesty the final report on the September 20, 2016, parliamentary elections, detailing all stages of the polls, the statement said.
Article Six of the Decentralisation Law stipulates that the governorate council shall be composed of a number of members and it shall have the legal personality with financial and administrative independence.
The law allows the government to appoint 25 per cent of the new councils. Governorate councils will elected for a four-year term to endorse strategic plans, budgets, infrastructure and service projects. The prime minister's office holds the power to dismantle elected councils and call for new elections, or postpone elections.