You are here
King calls for united, holistic action to counter terrorism
By JT - Nov 17,2015 - Last updated at Nov 17,2015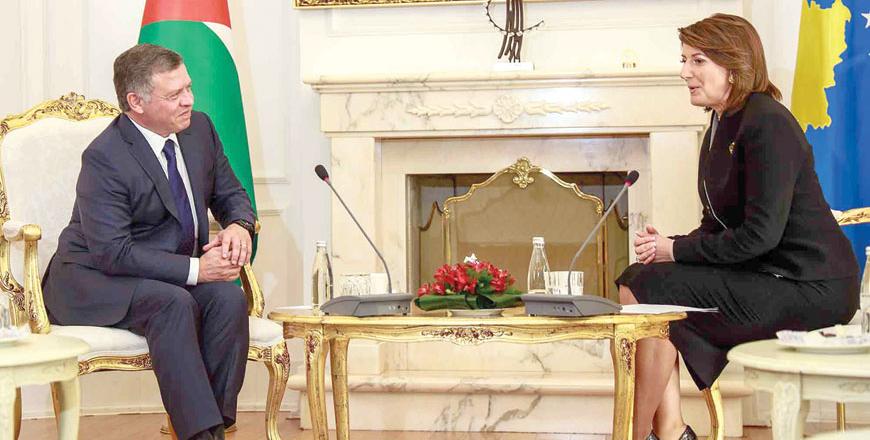 His Majesty King Abdullah meets with Kosovo's President Atifete Jahjaga in Pristina on Tuesday (Photo courtesy of Royal Court)
AMMAN — His Majesty King Abdullah on Tuesday started a European working tour in Kosovo, where he met with President Atifete Jahjaga with both leaders stressing their commitment to enhancing cooperation that would contribute to launching prosperous partnerships.
The King and Jahjaga discussed regional issues, at the top of which were the war on terrorism and extremist groups, according to a Royal Court statement.
"It's a delight for me and my delegation to be back here in Kosovo, to see the changes that this country has undertaken, and I am very proud to be a witness of the achievements that you and your people have done in such a short period of time," King Abdullah said in a joint statement with Jahjaga after the conclusion of the talks.
"It is also a pleasure for me to be in this country that plays such an important role in stability in this region, and many of us around the world will continue to support Kosovo and its rights for the future of its people and the important role it continues to play," His Majesty added.
"So, you can always count on... the support of my country in that role."
The King said his visit also takes on a level of importance because "this is a country in Europe with a Muslim majority, when both Europe and Islam are under attack from terrorists," adding that "Kosovo reflects the best values of tolerance and coexistence."
"These are the values we must build on and promote to counter the barbarism committed in Paris last week," he added.
The "atrocious Paris attack" shows that terrorism can strike at any place and any time, and that "groups such as Daesh expose themselves daily as savage outlaws of religion, devoid of humanity, respecting no laws and no boundaries," the King noted.
"As I told Her Excellency, we are facing a third world war against humanity, and this is what brings us all together," he said.
"This is a war as I have said repeatedly, within Islam, and unfortunately, with over 100,000 Muslims [having] been murdered by Daesh alone over the past two years, and that also doesn't count for the atrocities that the like-minded groups have also done in Africa and Asia," the Monarch added.
To counter this threat, "we must act united, fast and holistically, to tackle and respond to the interconnected threats — whether it is in this region, Africa, Asia or in Europe. We look to your country as a key partner in this joint response to extremist threats that face the globe."
Bilateral ties
His Majesty expressed pride in the bilateral relationship, which he said will grow stronger over the coming years.
"We are looking forward in our continued meetings today to discuss how to bring our two peoples closer together and strengthen the ties between our two very important nations."
"We have so much in common, between our peoples, that I look forward to a very bright and promising future between our two nations," the King added.
For her part, Jahjaga said: "It gives me an immense pleasure to welcome you to the Republic of Kosovo."
"It is an honour to have you here today and to have this opportunity to thank you in person and in Kosovo for the support and the partnership you have extended to Kosovo in consolidating our statehood, in forging new friendships and in exploring new avenues of bilateral cooperation," she added.
"Kosovo's path to peace and independence has been long. We have had a difficult past, but we… came together as a nation to build our own state," the president said.
"When we first met several years ago, you shared with me your memories of Kosovo, of a land ravaged by war," Jahjaga recalled.
"Your country dedicated troops to help cement the peace in Kosovo. You believed in our revival and our vision to create an independent state, becoming one of the first countries to recognise Kosovo as a country. We shall always be grateful," she added.
"Today we stand proud as a young nation, rebuilding our society, committed to further our values of freedom and democracy, of peace and tolerance. These are values that we promote and we look to Jordan as an ally in this."
As the president of Kosovo, Jahjaga said she was outraged by "the brutal terrorist attacks in Paris and saddened by the loss of so many innocent lives".
"We have all been affected, because this was not an attack on Paris. This was an attack on all of the freedom-loving countries around the world, on values and liberties that are fundamental to humanity and fundamental to the society that I represent," she highlighted.
"Defeating these terrorist networks is a challenge that cannot be met by one nation alone. It is imperative that we dedicate to it the attention and the necessary resources to destroy it [and] to permanently defeat it," the president added.
"Kosovo will continue to show this determination at home. We will not be a safe haven or a transit route for these elements, and we will continue to work with our partners and international security organisations to further address this matter," she stressed.
"Your Majesty, as I have said in our joint meeting today, Kosovo is on the right side of history," Jahjaga said, pledging to "guard these values" against "the dark forces" that want to encroach on "these hard-won freedoms and liberties. We will stand united to defend them".
Discussions at the bilateral and extended meetings between King Abdullah and Jahjaga covered international efforts to combat terrorism and extremism, with both leaders stressing the importance of focusing on Islam's values of moderation and tolerance and discarding all forms of extremism, the statement added.
The president of Kosovo highlighted the importance of Jordan's humanitarian role in hosting large numbers of Syrian refugees.
Following the meeting, Jahjaga presented the independence medal to King Abdullah in appreciation of his role in developing bilateral ties and enhancing peace and security in the Middle East and the world.
The medal is the highest in Kosovo and granted to senior international figures for their distinguished contributions, the statement said.
At another meeting with Prime Minister of Kosovo Isa Mustafa, King Abdullah highlighted the importance of expanding ties and searching for areas of cooperation in the service of both countries' visions to enhance these relations.
His Majesty reviewed opportunities for cooperation, especially in the economic sector, and stressed the importance of exchanging visits between businesspeople of both countries to explore joint potential investments.
The two sides called for signing the necessary agreements to enhance economic cooperation and trade exchange.
Talks also covered ways to increase collaboration in medical tourism and pharmaceutical industries, with Kosovo looking to benefit from Jordanian expertise in the e-health programme "Hakeem" and from medical capabilities at the King Hussein Cancer Centre.
Mustafa expressed his country's appreciation of Jordan's role, through the UN, in enhancing peace and stability in many countries, especially through Jordanian peacekeeping missions.
HRH Prince Talal Bin Mohammad, the King's special adviser, Royal Court Chief Fayez Tarawneh, Deputy Prime Minister and Foreign Minister Nasser Judeh, King's Office Director Jafar Hassan and senior officials from Kosovo attended both meetings.
On the sidelines of the visit, King Abdullah and Jahjaga toured the Kosova National Art Gallery, established in 1979.
Later on Tuesday, His Majesty left Kosovo and headed to Austria, the second stop of his Europe tour, according to the Royal Court's official Twitter account.
King Abdullah left the Kingdom earlier on Tuesday for the working visit to Europe, which also includes Spain.
HRH Prince Feisal was sworn in as Regent.
Related Articles
Feb 20,2014
His Majesty King Abdullah on Thursday held talks with Atifete Jahjaga, president of the Republic of Kosovo, during which they stressed their joint commitment to boosting bilateral cooperation in various spheres. 
May 12,2015
His Majesty King Abdullah on Tuesday held talks with Albanian President Bujar Nishani in Tirana, during which they discussed bilateral relations and regional issues of mutual concern.
Nov 15,2015
AMMAN — His Majesty King Abdullah will begin working visits to Kosovo, Austria and Spain in the middle of this week, a Royal Court statement
Newsletter
Get top stories and blog posts emailed to you each day.