You are here
Karak's Arbour Day celebration sees opening of new Qatraneh Forest
By JT - Jan 15,2023 - Last updated at Jan 15,2023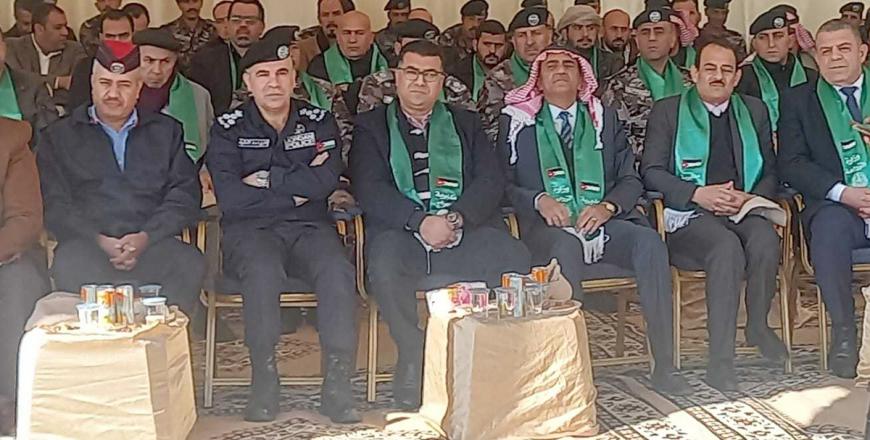 Agriculture Minister Khalid Hneifat attends a ceremony marking Arbour Day in Karak's Qatraneh District on Sunday (Petra photo)
AMMAN — Deputising for His Majesty King Abdullah, Agriculture Minister Khalid Hneifat on Sunday attended a ceremony marking Arbour Day in Karak's Qatraneh District, which is celebrated annually on January 15, the Jordan News Agency, Petra, reported.
Hneifat said that this ceremony, held annually under Royal patronage, highlights the great importance of planting trees. The minister noted that trees play a "pivotal role in the lives of nations" at the environmental, tourist and economic level, in addition to their contributions to reducing the impacts of climate change, the Jordan News Agency, Petra, reported.
Hneifat noted that over the past years, the ministry has implemented several forestation projects listed in the Sustainable Agricultural Plan (2022-2025), which aims to raise the proportion of forests in the Kingdom. Currently, forested land measures less than 1 per cent of the Kingdom's total area.
He added that work has commenced in a number of forestry projects, such as the forestation scheme, conducted in cooperation with the International Labour Organisation (ILO). The scheme uses cocoon technology, and is implemented in Jerash and Irbid with a total area of around 3,000 dunums of land.
The minister also noted that stakeholders have finished planting 159km of trees along the Desert Highway between Jiza and Maan, where work is ongoing to continue planting along the remaining parts of the road.
He also referred to the signing of forestation agreements with several public and private institutions to participate in the national forestation project, including some 30 agreements with NGOs.
The ministry distributes more than 2 million forestry and pastoral saplings for cultivation in all regions of the Kingdom, Hneifat said, noting that more than 500,000 plants are being planted annually to restore the pastoral cover of marginal and desert areas.
At the end of the ceremony, the Qatraneh Forest was opened with 100,000 saplings planted over an area of 2,000 dunums of land as part of a sustainability plan which irrigates the area through treated water and protects the forest by using cocoon technology.
Newsletter
Get top stories and blog posts emailed to you each day.