You are here
Journalists call for firmer Arab, int'l stance against Israel
By Mohammad Ghazal - Nov 11,2014 - Last updated at Nov 11,2014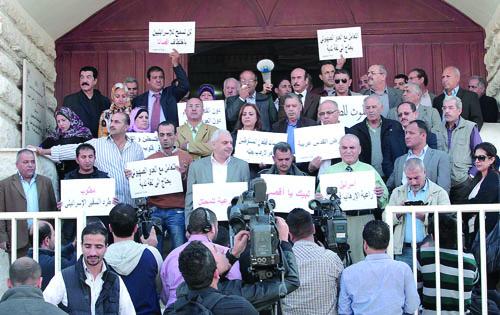 AMMAN — Scores of journalists on Tuesday called on Arabs and Muslims to extend support to Arab Jerusalemites to enable them to stand up in the face of Israeli escalatory measures aimed at evicting them from the holy city.
The journalists — who criticised the silence of Arabs, Muslims and the international community over repeated Israeli violations against Al Aqsa Mosque and the Arab residents of Jerusalem — said supporting Jerusalemites' steadfastness is crucial in the face of the Israeli scheme to alter the identity of the holy city.
"What Israel is doing to the Jerusalemites, from closing Al Aqsa Mosque, to demolishing houses of Palestinians and building new housing units in settlements, is terrorism itself," Jordan Press Association (JPA) President Tareq Momani said at a sit-in in support of Al Aqsa Mosque.
"Israel seeks to alter the identity of Jerusalem and the media should play a major role in exposing its schemes. We condemn all measures by Israel and urge the international community to place pressure on it to end its provocative measures and occupation of the city," Momani added.
Participants at the sit-in, organised by the 1,200-member JPA outside the association's headquarters, said Israel will not enjoy peace until a just solution is found to the Palestinian issue that results in the creation of an independent Palestinian state on the pre-1967 borders with East Jerusalem as its capital.
Momani, who said the recall of Jordan's ambassador from Tel Aviv was not enough, warned of a third Intifada (uprising) if Israeli continues its aggressive actions in East Jerusalem.
Abdullah Qaq, head of the Palestine committee at the JPA, said Israel is taking advantage of the troubled conditions in the Arab world.
"We condemn the weak positions by the Arab world and the international community towards Israeli measures in East Jerusalem," Qaq added.
Participants at the sit-in held banners that read "Death to the Zionists" and "Israel supports terrorism."
Related Articles
Nov 06,2014
Lower House Speaker Atef Tarawneh urged Jordanians on Thursday to stand united in the face of Israel's "hostile and arrogant" policies in Al Aqsa Mosque.
Aug 07,2014
The Jordan Press Association (JPA) on Thursday criticised some Arab and Western media outlets for being biased in favour of Israel while reporting on its aggression on the Gaza Strip.
Sep 16,2015
AMMAN — His Majesty King Abdullah on Tuesday embarked on a series of contacts with key international players to drum up support for Jordan's