You are here
Jordanians nearing 'boiling point' as refugee burden grows heavier
By JT - Feb 03,2016 - Last updated at Feb 03,2016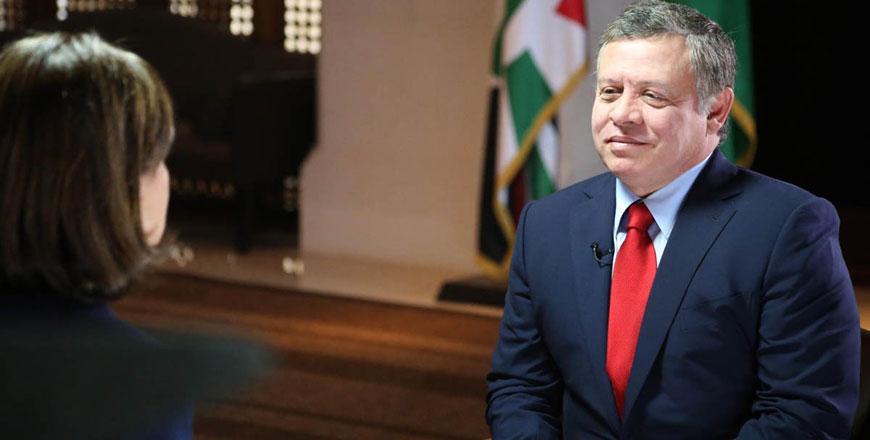 His Majesty King Abdullah speaks to the BBC's Lyse Doucet in an interview that aired on Tuesday (Photo courtesy of Royal Court)
AMMAN — His Majesty King Abdullah has said that the impact of the Syrian refugee crisis has pushed Jordanians to a "boiling point", and urged the international community to adopt a different approach to the complicated and protracted crisis.
In an interview with the BBC's Lyse Doucet, aired Tuesday, two days ahead of a donor conference in London, His Majesty said the "psyche of the Jordanian people, I think, has gotten to a boiling point. Jordanians are suffering from trying to find jobs; the pressure on the infrastructure for the government; it has hurt us when it comes to the educational system, our healthcare; … Jordanians [are] trying to get along with their lives" (see full text).
Meanwhile, a Royal Court statement said that His Majesty, accompanied by Her Majesty Queen Rania, left Tuesday to London.
He will deliver a speech at the meeting and is also scheduled to meet with international leaders and officials taking part in the conference as well as parliamentarians and ideological and political UK leaders.
From London, His Majesty is to head to Dublin, Ireland, to hold talks with the President of Ireland Michael Higgins and senior officials to discuss regional and international issues as well as bilateral cooperation, according to the Royal Court.
HRH Prince Feisal was sworn in as Regent.
King Abdullah told the BBC that Jordan's message to Europe "is that this is a donors conference for Syrian refugees, but for God's sake, from our point of view, this is also, I hope, a conference on how we make lives better for Jordanians because if that is not achieved, then we will all fail Jordan".
The King said that it wasn't until a trickle of refugees hit European shores that "eyebrows were raised and they began to realise the reality of the challenges that Jordanians have faced".
Asked if the West let Jordan down, the King highlighted the fact that 25 per cent of the state budget over the past several years has gone to address the challenges of refugees, while the donor support reached only 35 per cent of the amount required last year, which was the best year in terms of the ratio of international support. "The difference means that there is a tremendous shortfall," he said.
For Jordan, the right and proper type of global assistance is "a red line", the Monarch said, asking how Jordan can sustain itself and continue as a country of stability and a contributor to stability beyond its borders if the international community says no to its plan for sustainable assistance that would also improve the life of Jordanians.
With all that Jordan has been doing, the world cannot say "no".
"We are part of a coalition against extremism, not only in Syria and Iraq, but throughout the world. Whenever the international community has asked for Jordan to fight the good fight, alongside of our colleagues all over the international community, we have never said no. What we are asking now for the first time is, the international community, we have always stood shoulder to shoulder by your side; we are now asking for your help, you can't say no this time around to us."
If donors turn the request down, His Majesty told Ducet, "then we are going to have to look at things in a different way… And, by the way, they realise that if they don't help Jordan, it is going to make it more difficult for them to be able to deal with the refugee crisis. And, to be honest, all the leaders that we talk to know that by helping Jordan, they are actually helping themselves more. So it is in their vested interests".
On how to give Syrians a life as the crisis is likely to continue for years, the King referred to a "sensible approach".
"There is a teamwork approach on doing three elements of this. One is creating more opportunities to create work for Syrians and Jordanians… whether we like it or not Syrian refugees are going to be part of our country for some period of time to come. So they have to be integrated into the labour force, everybody knows that. But as we go to this conference, if you are going to create a job for Syrians, you have got to create more jobs for Jordanians".
On the issue of some 16,000 Syrian refugees in the no man's land on the border with Syria, the King insisted that a screening process must continue, albeit at a slow pace, to make sure that only decent people come across the border, and not Daesh, or any other terrorists.
"This is for us a red line. We are trying to process them as quickly as possible; but again we throw back to the international community, and to those countries that have been very difficult to us; saying that at the end of the day, you're saying there are only 16,000, we've already taken 1.4 million people."
To critics, he said: "If you are going to take the higher moral ground on this issue, we'll get them all to an air base and we're more than happy to relocate them to your country, if what you are saying is there are only 16,000. Considering the amount of people we have taken into our country; if you want to help the refugee problem, 16,000 refugees to your country, I don't think is that much of a problem."
The King reiterated that "what keeps me up at night… is not the political situation, it is not the military security, because we are all strong and united, we know where the enemy is. But young Jordanians looking for jobs are so frustrated that if we can't give them an opportunity, that's the problem. And so going to the UK for this conference, it is Syrian refugees/opportunities for the future of young Jordanians".
On the Russian interference in Syria, His Majesty said it shook up the tree and "galvanised everybody to get to the peace talks because if we don't, it is going to unravel into a very messy, a messier situation in Syria".
Related Articles
Feb 03,2016
Following is the full text of His Majesty King Abdullah's interview with the BBC's Lyse Doucet which was broadcast on Tuesday: Question
Sep 22,2016
Following is the full text of His Majesty King Abdullah's speech at the Summit for Refugees and Migrants in New York on Tuesday.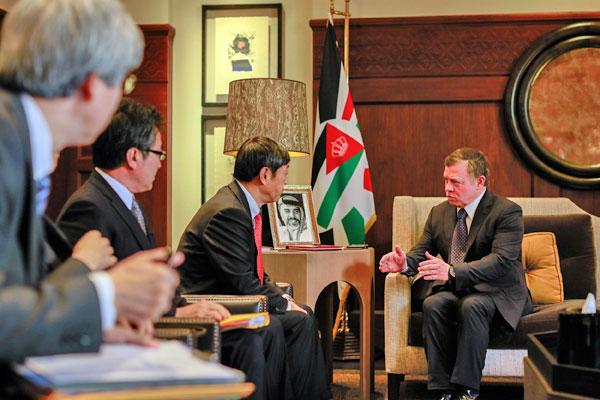 Jan 28,2016
AMMAN — His Majesty King Abdullah on Thursday asserted Jordan's commitment to strengthening its cooperation with EU countries, within the fr
Newsletter
Get top stories and blog posts emailed to you each day.