You are here
Jordanian students eligible for free, low-cost tuition at European universities
By Mays Ibrahim Mustafa - May 08,2023 - Last updated at May 08,2023
Representative image (Photo courtesy of unsplash/Leon Wu)
AMMAN — Jordanian students are eligible to study in universities in many European countries for free or at low cost, according to Erudera, an education search platform backed by artificial intelligence (AI).
"Many European countries have abolished tuition fees for both domestic and international students, expanding access to higher education and making it more financially viable," Erudera said in a statement sent to The Jordan Times.
Erudera's team has conducted thorough research on European countries that offer free or affordable education for international students, including details on the estimated cost of living in each country.
The platform's research also features information on post-grad work visas, which allow students to stay in the country for a set period of time to search for employment, as well as details related to students' ability to work part-time during their studies.
As non-EU nationals, Jordanians can study for free in the Czech Republic, Germany, Finland and Iceland "under certain conditions", according to Erudera.
The estimated monthly living cost for students ranges from 823 euros to 1,071 euros in the Czech Republic, 978 euros to 1,296 euros in Finland, 1,040 euros to 1,277 euros in Germany and 1,369 euros to 1,976 euros in Iceland, according to the platform's research.
Erudera advises students to check the website of their university of choice before making a decision.
"While many universities worldwide do not charge tuition fees, they can still charge smaller amounts, known as administrative fees," the statement said. "These fees help fund the services related to the administration and supervision of students. In Germany, for example, such fees are usually no higher than 250 euros per semester".
Moreover, some federal states in Germany reintroduced tuition fees in 2017. For example, universities in the state of Baden-Württemberg charge non-EU international students a "moderate" tuition fee, equal to 1,500 euros per semester, according to Erudera.
Students who wish to pursue their studies in Germany should also consider that some states charge students who fail to complete their degree within the designated timeframe set by universities, the statement added.
Moreover, non-consecutive master's programmes in Germany, known as "weiterbildende", which cover topics different from one's bachelor's degree, incur tuition fees that vary depending on the programme, university and the student's nationality, according to the platform's research.
International students studying in Germany can work full-time for 120 days or part-time for 240 half days without needing a work permit. They can also apply to stay in the country for 18 months after graduation in order to look for a job, according to the company.
As for the Czech Republic, universities only offer free tuition for Jordanians and all other non-EU students for Czech language taught-degrees, while the median tuition fees for degrees taught in English or other foreign languages is around 6,250 euros, according to the statement.
In Finland, tuition is free for non-EU nationals for Finnish or Swedish-taught degrees, while tuition fees for English taught degrees start from 4,000 euros, the research showed.
Jordanian students who wish to study in Iceland have to keep in mind that most programmes at the University of Iceland are taught in Icelandic, and mainly postgraduate programmes are offered in English.
The research also lists countries with affordable higher education options for non-EU students, which include Albania, Andorra, Austria, Belarus, Belgium, Bosnia & Herzegovina, Switzerland, Serbia, Portugal, Italy, France, Poland and Spain, among others.
Erudera's research showed that Jordanian students can work during and earn some pocket money during studies in most European countries, as many nations give students the opportunity to work up to 20 hours per week.
For example, the research found that yearly tuition fees in Belarus range from 1,000 euros to 6,000 euros, while monthly living costs range from 507 euros to 595 euros. Foreign students can work less than 30 hours per week without a permit.
In Spain, non-EU students must pay 2,770 euros per year for a bachelor's degree and 3,770 euros per year for a master's degree, with an average living cost of 805 euros to 1,098 euros per month, according to Erudera's list.
"Spain positions itself among the top study destinations, counting 208,366 international students across its higher education institutions, an increase of 36 per cent in the past five years," the platform stated.
It also pointed out that "international students in Spain can work 20 hours per week during the academic year and full-time during semester breaks. Students can also stay in the country for up to 12 months to look for a job after graduation".
The list is published on Erudera's website under "Countries with Free Education for International Students (2023).
Related Articles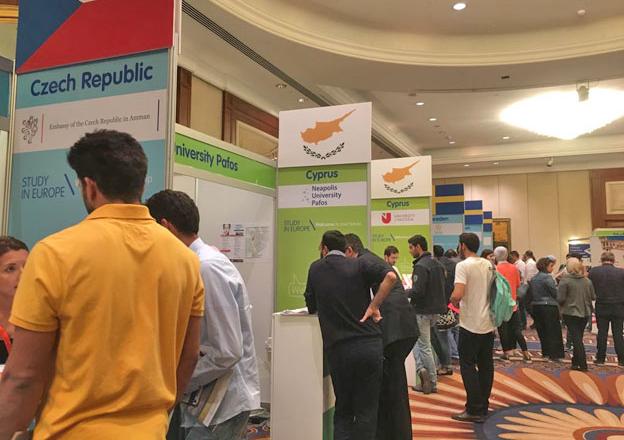 Oct 12,2017
AMMAN — Over 2,000 Jordanian students pre-registered online to attend the Study in Europe Fair to find study abrood opportunities through ar
Nov 17,2018
AMMAN — Minister of Higher Education and Scientific Research Bassam Talhouni and the Hungarian Ambassador to Jordan Csaba Czibere on Saturda
Oct 01,2014
The Hungarian government increased the number of scholarships allocated for Jordan from 226 to 400, Higher Education Minister Amin Mahmoud and Jordanian Consul in Budapest Zeid Naffaa said Wednesday.