You are here
Jordanian painters explore 'contradictions of women characters'
By Camille Dupire - Jan 18,2018 - Last updated at Jan 18,2018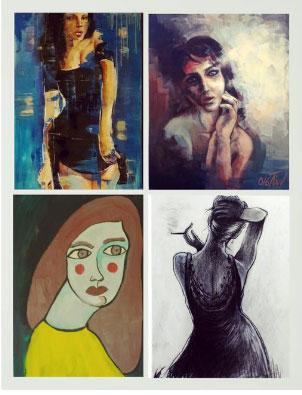 The Zara Gallery on Wednesday inaugurated a group exhibition by Jordanian female artists, under the title 'Delicate Lines of Strength' (Photos courtesy of Zara Gallery)
AMMAN — The Zara Gallery on Wednesday inaugurated a group exhibition by Jordanian female artists, under the title "Delicate Lines of Strength".
A gathering of paintings by four local artists, the exhibition conveyed the strength of women through a depiction of their beauty, sensitivity and mystery.
"The paintings are all in contrast, showing both the power and fragility of women, their confidence and passion, their curiosity, while maintaining a deep mystery about their personas," said Dana Rousan, director of the gallery and an artist herself.
Yasmeen Al Kurdi, a 24 year-old artist, is one of the painters exhibited at the event.
"As a woman myself, I am very aware of all the challenges and obstacles Jordanian women can face in society. This is why I tend to focus on female characters in my painting, to try and express the feelings we can have towards these difficulties," -Kurdi, who is also an art and sculpture teacher, told The Jordan Times.
The young artist's paintings offer her personal vision of female curves, playing with the fluidity of the woman's body while still leaving room for the viewer's interpretation of the character through abstract techniques.
"When I paint, I just do it for art, I do not seek to convey a message or to reach a higher purpose," noted Kurdi, stressing that she leaves the words and interpretation for the people who look at the painting.
A much more delicate focus on linear figures is at the core of Mahan Abu Samaan's paintings.
"In general, women are full of emotions and they express them more than men, which makes it easier to paint a female figure, at least for me," she told The Jordan Times, adding "I pay great attention to details in everything in my life, and I try to reflect this in my paintings."
Stressing that the women she portrays in her paintings are "from her own imagination", Abu Samaan said that they all express different states of emotion each woman experiences.
"Waiting, loss, happiness, strength are some of the feelings I try to convey for the viewer," she concluded.
For her part, Leena Saleh, a self-taught visual artist who started her career as a computer scientist, offers a series of painting embodying the duality of the exhibition's theme.
A mix of dark and bright colours, which highlights the shadows of the characters she depicts, forms the basis of her artistic philosophy.
"Painting is the translation of one's thoughts onto a canvas," she says, noting that each painting is a way of translating an emotion, a personal state, or an event.
The fourth artist, Nisreen Haddadin, said she is in search of "a new presentation of women's aesthetics". Through provocative portraits of liberated women, she expresses women's ability to refuse social submission.
"These artworks intrigue the viewer's imagination by providing an insight into the endless set of feelings driven by the inner and outer worlds of females," Rousan explained, adding that "the variety of artistic styles and techniques used by the four artists reflects the multiplicity of women's facts and traits".
The multiplicity of styles reflected in the four artists' work, which range from subtly linear, to elegantly abstract and minimally vibrant, adjusts perfectly in an unexpected way, leaving the viewers' puzzled yet inspired.
Related Articles
Oct 23,2017
AMMAN — "An 'Easternised' Scandinavian": this is how an art critic described the Danish painter Bente Christensen-Ernst, whose latest work i
Nov 12,2017
AMMAN — An exhibition depicting the life and depths of women's faces is giving art-enthusiasts the freedom to interpret its colourful and en
Apr 12,2016
AMMAN — Believing in the "special link" between nature, emotions and feminine beauty, Jordanian artist Hanada Khataybeh is showcasing that r
Newsletter
Get top stories and blog posts emailed to you each day.