You are here
Jordan, Russia encourage voluntary return of Syrian refugees
Safadi says a safe environment for refugees' return is a prerequisite
By JT - Jul 27,2018 - Last updated at Jul 27,2018
This handout photo released by the official Syrian Arab News Agency on Thursday shows Syrian army soldiers carrying the national flag in the village of Hamidiya in the southern province of Quneitra on the frontier with the Israeli-occupied Golan Heights, around four years after losing control of the area  (AFP photo)
AMMAN — Foreign Minister Ayman Safadi and a Russian delegation headed by Russian Special Presidential Envoy for Syria Alexander Lavrentiev discussed the latest developments in Syria, especially in the southern region of the country.
Safadi and the delegates, who included the Russian deputy foreign minister and defence ministry officials, reviewed Russian ideas related to the return of Syrian refugees and efforts exerted to strengthen stability in the southwestern region of Syria, according to a ministry statement.
In this regard, the minister stressed that Jordan encourages the voluntary return of refugees to their country and supports efforts that seek to provide proper conditions for their return.
He also underlined the need to ensure a safe political, social and economic environment that encourage refugees to go back to their towns and villages.
Safadi stressed that Jordan would continue cooperating with Russia so as to reach a political solution to the Syrian crisis, one that is accepted by all Syrians, maintains the territorial integrity of the country and guarantees the safe return and resettlement of refugees on their lands.
Safadi and Lavrentiev praised the "effective" Jordanian-Russian coordination on the Syrian crisis, Petra said, "which contributed to reaching political settlements in the south-western region and spared Syrians further bloodshed and boosted their resilience in their homeland".
Lavrentiev praised the Kingdom's role in this regard and its humanitarian efforts in shouldering the burden of the refugee influx.
Both officials stressed that Amman and Moscow would continue cooperating to encourage the voluntary return of Syrians to their country, as well as institutionalising necessary coordination mechanisms, and, at the same time, maintaining efforts aimed at reaching a comprehensive political solution to the crisis.
The top diplomat highlighted the importance of the Russian role in any initiative or effort aimed at achieving the envisioned political solution to the crisis.
They also stressed the vitality of eliminating the Daesh terror group, preventing its crimes and uprooting its dark ideologies.
Related Articles
Oct 28,2020
AMMAN — His Majesty King Abdullah, accompanied by HRH Crown Prince Hussein, met on Tuesday, via teleconference, with a joint delegation from
Oct 27,2020
AMMAN – Deputy Prime Minister and Minister of Foreign Affairs and Expatriates Ayman Safadi on Tuesday highlighted the importance of intensif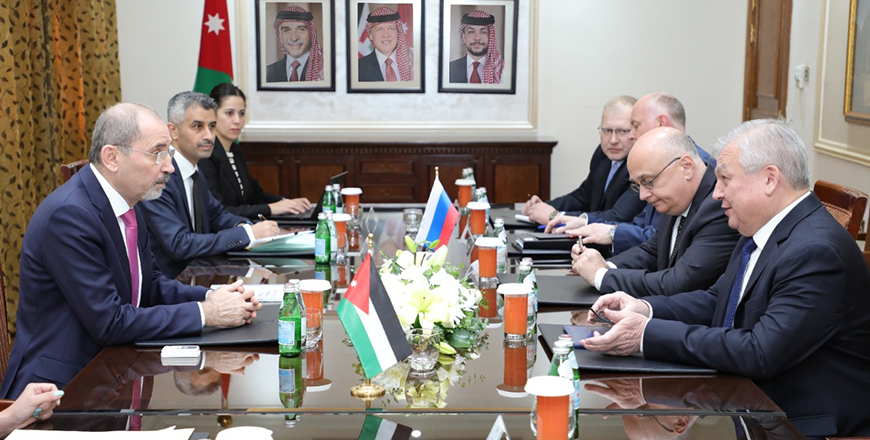 Jan 11,2023
AMMAN — Deputy Prime Minister and Foreign Minister Ayman Safadi on Wednesday met with Russian Special Presidential Envoy for Syria Alexander