You are here
Jordan receives eight Blackhawks from US
By Khetam Malkawi - Mar 04,2016 - Last updated at Mar 04,2016
Blackhawks are seen in a military airport in Amman, delivered by the US as part of military assistance to Jordan, on Thursday (Photo by Osama Aqarbeh)
AMMAN — Jordan on Thursday received eight Blackhawk helicopters from the US and will receive another eight next year to be allocated to the Jordan Armed Forces-Arab Army (JAF).
US Ambassador to Jordan Alice G. Wells said the arrival of the UH 60A Blackhawk helicopters "will provide Jordan with another tool for safeguarding its frontiers", adding that the helicopters will enable the Jordanian Army Quick Reaction Forces to rapidly deploy anywhere in the country.
Since February 2015, the United States has expedited delivery of more than 26,000 rifles and machine guns, more than 3 million rounds of small arms ammunition, hundreds of bombs and 5,000 night vision devices to support Jordan's immediate operational requirements, the ambassador said.
"Jordan receives one of the largest amounts of foreign military financing in the world with Congress appropriating $450 million for the fiscal year 2016," Wells said at a ceremony held to receive the Blackhawks at Marka Military Airport in Amman.
In her remarks, the envoy stressed that her country continues to support efforts to strengthen the JAF's ability to rapidly respond to transnational threats along its borders.
"US funding helped build the Jordan Border Security Programme, an integrated border surveillance system. This network of sensors alerts the JAF to threats," Wells said, adding: "I do not have to tell this group about the sheer number of incursions the Border Guard forces thwart; almost nightly the Border Guard troops repel incursions."
She added that the US is committed to supporting Jordan to effectively respond to threats posed by Daesh, as President Barack Obama recently noted, "Jordan is a country that punches above its weight when it comes to the fight against ISIL [Daesh]."
"Yesterday, we all commemorated the heroism of Major Rashed Zyoud, who gave his life defeating Daesh terrorists," the ambassador said, adding that JAF and particularly the Royal Jordanian Air Force have been a steadfast partner in this campaign, with over 1,000 flight hours, 350 sorties and 100 successful strikes against Daesh.
Speaking at the ceremony, Commander of Prince Al Hussein Bin Abdullah II Reconnaissance Air Wing Brigadier General Jaber Abbadi thanked the US for its continuous support and for working "with us on this project and for their understanding of our needs, supporting our ideas and thoughts during the productive discussions in the meetings to solve all related issues".
"As a result of these collective efforts, we were able to train our pilots and technicians, conducting all maintenance work and receive them in Amman in less than a year", Abbadi added.
A US official, who asked to remain anonymous, told the press that the helicoptors received on Thursday are "a no-cost lease to Jordan…They are granted to Jordan and these are the same helicopters that the US military uses".
Eight more brand-new UH 60 MIKE helicopters will be shipped next year as part of a grant totalling $200 million. "They are being built right now and will arrive sometime in 2017", the official said.
As for the Predator drones that Jordan has requested, the US official said: "There is no request to purchase right now, but there is a request for pricing MK9." However, "this is not an item that we are actually providing".
Related Articles
Mar 21,2017
AMMAN (JT) — The Royal Air Force on Tuesday received two Blackhawk helicopters (UH60-M) from the US.A ceremony was held at at the Marka Mili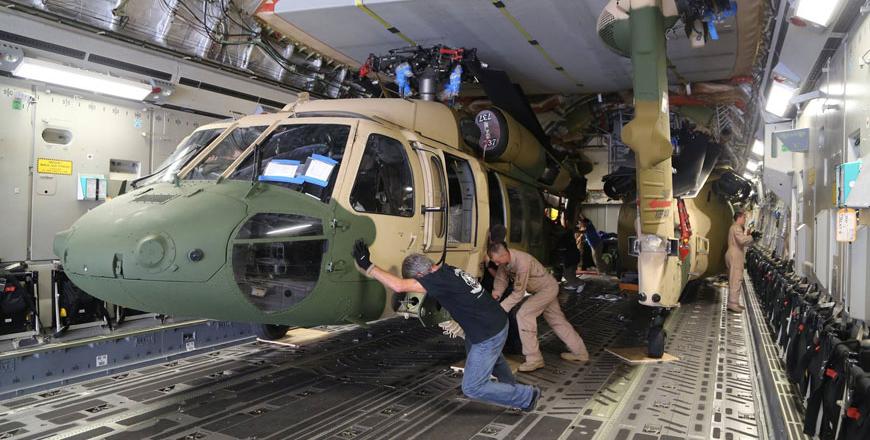 Nov 19,2015
AMMAN — Jordan has received three Blackhawk helicopters from the US out of eight allocated for the Jordan Armed Forces-Arab Army (JAF), Gove
Apr 25,2017
AMMAN — HRH Prince Feisal, the Special Assistant of the Chairman of the Joint Chiefs-of-Staff, on Tuesday chaired the closing session of the
Newsletter
Get top stories and blog posts emailed to you each day.