You are here
Jordan rebukes Israel for continued violations at Al Aqsa Mosque
Jordan demands Israel to immediately cease all violations at Al Aqsa Mosque
By JT - Oct 05,2023 - Last updated at Oct 05,2023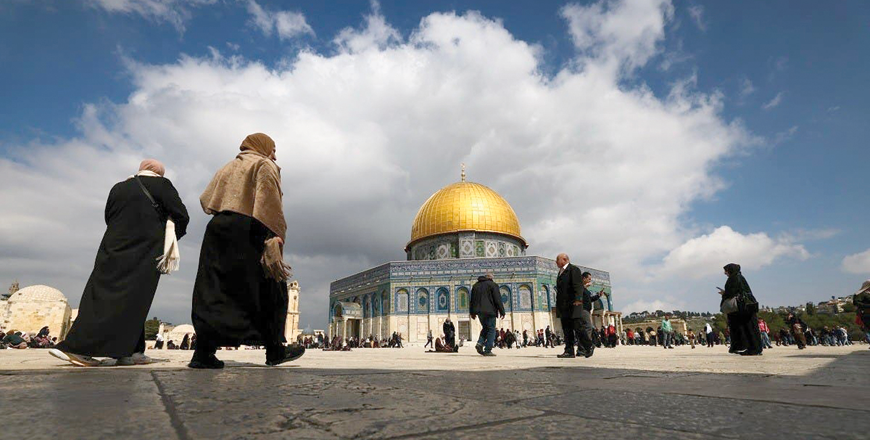 Palestinian worshippers gather at the Al Aqsa mosque compound for the Friday prayer in Jerusalem on February 24 (AFP photo)
AMMAN — Jordan on Tuesday protested the Israeli extremists' repeated attacks on Al Aqsa Mosque, Islam's third holiest shrine.
Jordan's anger was conveyed in a note verbale the Foreign Ministry delivered to Tel Aviv's ambassador in Amman.
In the note, a copy of which was seen by The Jordan Times, the Kingdom protested the repeated incidents of Israeli extremists, settlers and Knesset members breaking into Al Aqsa Mosque/Al Haram Al Sharif compound under the protection of Israeli occupation forces.
The ministry denounced the restrictions the Israeli occupation authorities impose on Palestinian worshippers' entry to Al Aqsa Mosque, as well as Israel allowing extremists to desecrate Islamic cemeteries in the surrounding area of Al Haram Al Sharif and its increasing aggression against Christian residents of occupied Jerusalem.
Ministry Spokesperson Sufyan Qudah said Jordan, in the letter, stressed Israel's status as an "occupying force that must comply with international law concerning occupied Jerusalem and the holy sites".
The spokesperson also reiterated that Al Aqsa Mosque/Al Haram Al Sharif, with its total area of 144 dunums, is solely a place of worship for Muslims, and that the Jordan-run Jerusalem Awqaf and Aqsa Affairs Department has the exclusive authority to supervise the holy site's affairs and manage entries.
Jordan demanded that Israel immediately cease all violations at Al Aqsa Mosque and respect its sanctity, and stop all measures aimed at altering the existing historical and legal status quo, including attempts for temporal and spatial division.
Related Articles
Sep 26,2022
AMMAN — Jordan on Monday condemned the continual and accelerating raids at Al Aqsa Mosque/Al Haram Al Sharif perpetrated by Israeli extremis
Apr 08,2023
AMMAN — The Foreign Ministry on Saturday warned of the "catastrophic" consequences of Israel's continued violation of the historical and leg
Dec 07,2023
AMMAN — The Ministry of Foreign Affairs on Wednesday condemned the Israeli occupation forces' permit to extremists to march through the Old