You are here
Jordan reaffirms condemnation of offensive prophet cartoons
By JT - Oct 27,2020 - Last updated at Oct 27,2020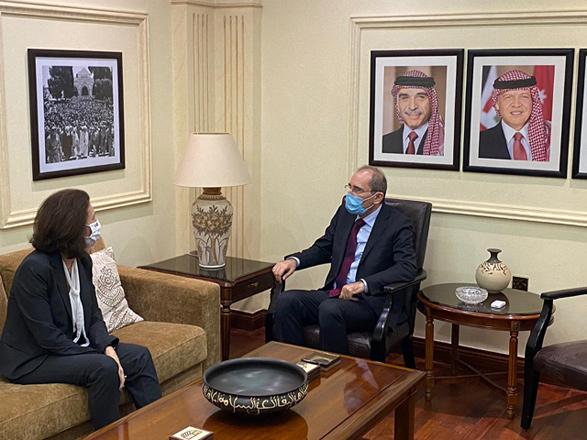 Deputy Prime Minister and Minister of Foreign Affairs and Expatriates Ayman Safadi meet with French Ambassador to Jordan Véronique Vouland on Monday (Petra photo)
AMMAN — Jordan on Monday reaffirmed its rejection of the continued republishing of offensive cartoons of Prophet Mohammad that hurts the feelings of some two billion Muslims across the world.
Deputy Prime Minister and Minister of Foreign Affairs and Expatriates Ayman Safadi informed French Ambassador to Jordan Véronique Vouland of the Kingdom's "utter resentment" at the republishing of these cartoons, stressing that offending religious symbols and sanctuaries fuels hate speech, violence, extremism and terrorism that Jordan denounces, according to a Foreign Ministry statement.
Safadi told the French ambassador that offences against Prophet Mohammad or any other prophet under the pretext of the freedom of expression is not acceptable.
The foreign minister also referred to a ruling by the European Court of Human Rights in 2018, which stated that offending Prophet Mohammad cannot be listed as a freedom of expression.
Jordan will continue to be an advocate of the culture of peace, respecting others and their sanctuaries, symbols and beliefs in the face of all forces of extremism, hate and terrorism, he stressed.
The deputy prime minister also called on Vouland to speed up investigation into an attack on Jordanian citizens Hiba Abu Eid and her brother Mohammad and bring the perpetrators to justice as soon as possible.
Safadi highlighted the importance of intensifying efforts in the fight against "the culture of hate speech and segregation", noting that the Kingdom is continuing with its policies that enhance the culture of respecting others and its initiatives that aim at enhancing dialogue and cooperation, such as the World Interfaith Harmony Week and the "A Common Word between Us and You" initiative.
The minister stressed that Islam is a religion of love and peace that respects others and highlights the importance of preserving the freedoms of belief and worship, as well as respecting prophets.
Islam discards all acts of violence and terrorism that some perpetrate in complete contradiction with the true message of Islam, Safadi said.
Newsletter
Get top stories and blog posts emailed to you each day.