You are here
Jordan National Gallery to host Lebanese artist Sayegh's solo exhibition
Gallery also to host group exhibition showcasing Lebanese artworks from Permanent Collection
By JT - Mar 06,2023 - Last updated at Mar 06,2023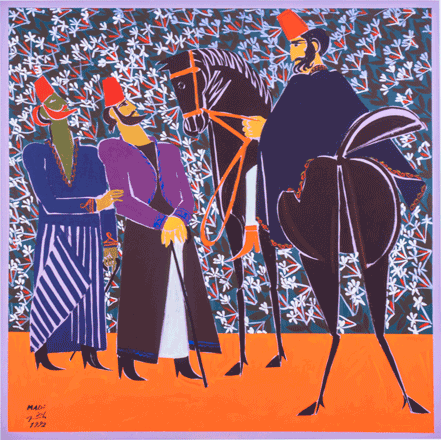 The group exhibition showcases artworks by pioneer artists and their successors (Image courtesy of Jordan National Gallery of Fine Arts)
AMMAN — Under the patronage of HRH Princess Ghida Talal, the Jordan National Gallery of Fine Arts organises a solo exhibition for Lebanese artist Samir Sayegh in collaboration with the Jordanian Lebanese Association, and a group exhibition showcasing Lebanese artworks from the Permanent Collection of the Jordan National Gallery on Wednesday at 6pm at the Jordan National Gallery of Fine Arts.
Following the exhibition, Sayegh will give a lecture titled "Innovation in Arabic Calligraphy" on Thursday at 6pm at the Jordan National Gallery of Fine Arts, according to a statement from the organisers. Both exhibitions will run until May 20.
Known as an avant-garde calligrapher and a pioneer of Arab modernism, Sayegh was born in 1945 in Beirut. After studying at the Saint Savior Convent in Joun, Lebanon, he pursued an art history degree at the Ecole des Beaux-Arts in Paris. As a critic and historian, he wrote numerous publications on Arab contemporary art from 1970 to 1985. Since then, Sayegh has devoted himself to the development of Arabic calligraphy into a form of modern visual art, in line with the principles of "Hurufiyya" that emerged among Arab and Arab-American artists during the second half of the 20th century, the statement said.
A prolific writer and a poet, he is the author of several books on Sufi poetry and Islamic art. He additionally lectured in the architecture and design department at the American University of Beirut from 2003 to 2007.
Sayegh fell in love with calligraphy at age 12 and has worked to preserve it since the 1950s. He experimented with geometric, structural and abstract possibilities to liberate Arabic letters from traditional connotations and meaning-based restrictions, instead focusing purely on aesthetic properties.
Influenced by the angular Kufic scripts of early Korans, he created a new set of typefaces by merging traditional calligraphy with contemporary design.
To create his modern calligraphic masterpieces, Sayegh makes his own giant — up to 35cm — felt-wrapped pens to draw wide acrylic or ink lines on paper or fabric. This technique evokes Japanese and Chinese calligraphy, but Sayegh, nevertheless, adheres to the system of angles and proportions that has been practised in the Arab world for many centuries. The result is strong, dynamic letters that are free from linguistic utilitarianism, the statement said.
The artist uses monochromatic colours and square edges so that each letter is deconstructed from its original form and unbound from semantic use. For Sayegh, the process of reading comes second to seeing. Sayegh lives and works in Beirut.
The group exhibition showcases artworks by pioneer artists and their successors. The featured Lebanese artworks from the Permanent Collection of the Jordan National Gallery represent different art forms such as painting, drawing, sculpture, printmaking with their different techniques, photography and calligraphy.
The exhibition showcases artworks by Lebanese artists: Paul Guiragossian, Afaf Zurayk, Etel Adnan, Wajih Nahleh, Amin Elbacha, Hussein Madi, Saliba Douaihy, Sami Makarem, Rafiq Sharaf, Annie Kurdjian, Aref Rayes, Chafic Abboud, Chaouki Chaoukini, Fadia Ahmad, Ghada Jamal, Emmanuel Guiragossian, Charles Khoury, Hassan Jouni, Hrair, Helen Khal, Juliana Seraphime, May Abboud, Nizar Daher, Asaad Arabi and Simone Fattal.
Related Articles
Nov 14,2023
AMMAN — Darat Al Funun — Khalid Shoman Foundation is currently showing a collection of artworks in solidarity with Palestine from the 1970s
Oct 10,2019
AMMAN — Wadi Finan Art Gallery created three solo exhibitions for Amman Design Week.The gallery showcases the exhibition by multimedia artis
Feb 06,2018
AMMAN — An exhibition showcasing calligraphic and graphic transcriptions of the 21th verses of Dante Alighieri's Divine Comedy was opened in