You are here
Jordan Lead Codices not modern forgeries — British experts
By JT - Dec 01,2016 - Last updated at Dec 01,2016
One of the Lead Codices found in Jordan which have been under tests to prove their authenticity (Photos courtesy of Davic Elkington)
AMMAN – Held as one of the most important discoveries in archaeological history, yet contested as "modern forgeries", codices discovered in Jordan almost a decade ago have been proven authentic by British experts.
In a statement e-mailed to The Jordan Times, the Ion Beam Centre (IBC), based at the University of Surrey, UK, and supported by the Engineering and Physical Sciences Research Council, on November 30 published new evidence of the authenticity of the country's Lead Codices.
Comprising upwards of 70 ring-bound books made entirely of lead, the codices were found in a remote valley in northern Jordan between 2005-2007, with evidence to suggest that they date back to the 1st or 2nd century AD. Linguistic analysts have claimed that they are the only Hebrew-Christian documents, challenging the significance of the Dead Sea Scrolls discovered mid-century in the caves of Jordan Valley.
A codex, forming part of the Lead Codices collection, was on official loan to the IBC for study from the Department of Antiquities. Director of the IBS, Prof. Roger Webb, and Senior Liaison Fellow, Prof. Chris Jeynes, have reported that the codex did not demonstrate the radioactivity arising from atmospheric polonium that is typical of modern lead samples, indicating that the lead of the codex was smelted over a century ago, and is not a product of modern-day manufacturing.
A further report by independent analyst Matthew Hood, an examiner of the erosion of the codices since 2009, has claimed that the "visible formation of mineral crystals as the metal reverts to organic compounds provides strong evidence of the great age of some of these artifacts".
"The suspicion of forgery, sown by the bloggers and a rashly published note in the Times Literary Supplement in 2011, has been disproved by several independent scientific tests of the metal as well as yet unpublished expert study of the writing. No one of those actually involved with research on the codices has any doubt about their antiquity," the statement said.
Related Articles
Mar 09,2017
AMMAN — The Department of Antiquities (DoA) on Thursday announced that the lead codices it seized with the help of security authorities arou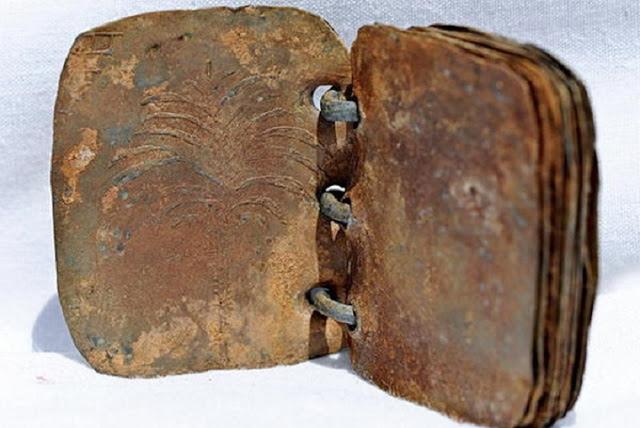 Apr 07,2018
AMMAN — The Department of Antiquities (DoA) has announced that the lead codices allegedly found in a northern Jordan cave between 2005-2007
May 18,2017
AMMAN — His Majesty King Abdullah on Thursday discussed cooperation and partnership between Jordan and the World Economic Forum (WEF) with i
Newsletter
Get top stories and blog posts emailed to you each day.