You are here
Jordan, EU sign two financing agreements worth 64 million euros
By JT - Jan 29,2023 - Last updated at Jan 29,2023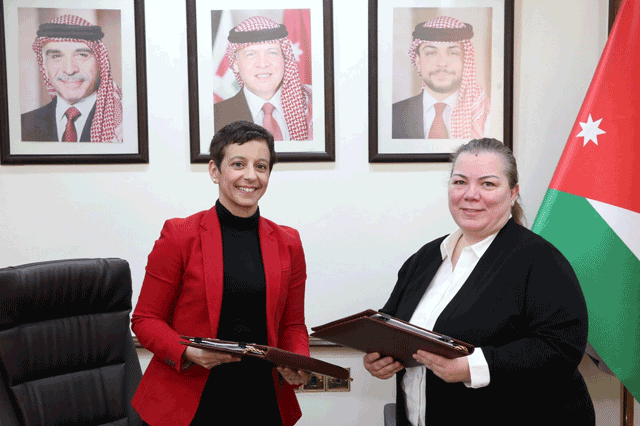 Minister of Planning and International Cooperation Zeina Toukan and EU Ambassador to Jordan Maria Hadjitheodosiou during a signing ceremony on Sunday (Photo courtesy of Planning Ministry)
AMMAN — Confirming its role as one of Jordan's main supporters, the European Union (EU) on Sunday signed two financing agreements with the government of Jordan, providing up to 64 million euros.
The first agreement finances a 39-million-euro programme titled "EU support to the Rule of Law in Jordan", in support of the Ministry of Justice, the Judicial Council, the Judicial Institute and the Public Security Directorate, with the aim to consolidate the rule of law and judicial institutions in Jordan, as well as improve effectiveness, transparency, accountability and accessibility in line with best standards and practices, according to a statement from the Planning Ministry.
The second financing agreement contributes a 25-million-euro top-up to the "Green Growth" programme from the Food and Resilience Facility (FRF) which will support Jordan in the implementation of its Food Security Strategy and Action Plan, and help address the negative impact that the ongoing Russian aggression towards Ukraine has had on global food security, the statement said.
Zeina Toukan, Minister of Planning and International Cooperation, extended the Jordan's appreciation to the EU for these grants, stressing that the relationship with the EU is "historic and deep-rooted".
The minister said that these grants come at an important time to support the development and reform efforts in Jordan, and are in line with the economic, administrative and political modernisation tracks. Toukan stressed the importance of providing additional grants and concessional financing in this regard, especially to support the implementation of the programmes and projects articulated in the Executive Programme of the Economic Modernisation Vision for the years 2023-2025.
Maria Hadjitheodosiou, the EU Ambassador to Jordan, commended the long-standing partnership between the EU and Jordan.
"The agreements signed encapsulate the EU's commitment to continue engaging with Jordan in order to enhance two key sectors that touch the lives of every Jordanian: The judicial system and food security. Modernising judicial institutions and law enforcement agencies will mark Jordan's commitment towards a human-rights and citizen-centred approach to justice and security, and will also contribute to achieving the ambitious objectives of the ongoing political modernisation, economic and administrative reforms," she said.
The EU's FRF aims to support specific interventions designed centred on the domestic context. The FRF focuses mainly on the partners most severely affected by recent negative impacts on global food security caused by the ongoing Russian aggression towards Ukraine.
"This intervention is very timely and aims to support Jordan's Food Security Strategy and yield concrete results by — among others — facilitating support to vulnerable farmers to enhance rainwater harvesting and planting basic grains," the EU ambassador said.
Related Articles
Jun 07,2023
AMMAN — The Planning and International Cooperation Ministry on Wednesday announced that the EU has agreed to provide two grants to the Kingd
Dec 02,2020
AMMAN — The European Investment Bank (EIB) signed a framework loan of 260 million euros with the government of Jordan to support priority wa
Feb 04,2021
AMMAN — Cementing its role as one of Jordan's main supporters, the European Union (EU) has signed at the end of 2020 five financing agreemen