You are here
Jordan drops 12 places on corruption perceptions index
By Dana Al Emam - Jan 26,2017 - Last updated at Jan 26,2017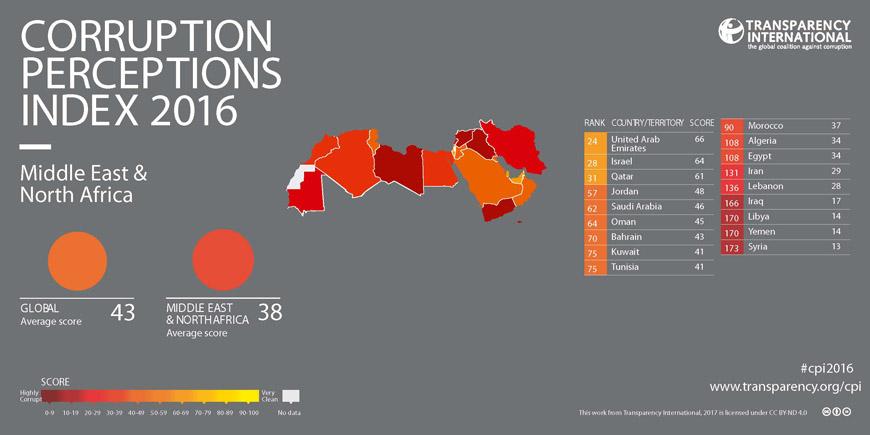 AMMAN — Jordan is perceived as more corrupt and less transparent than in 2015, according to its ranking and score in Transparency International's 2016 Corruption Perceptions Index.
Jordan's score in the index dropped in 2016 by 5 points compared to the year before, pushing Jordan 12 places down the ranking list.
This year, the Kingdom ranked 57th out of 176 countries included in the index, with an overall score of 48 out of 100 points.
Last year, Jordan ranked 45th internationally, scoring 53 out of 100.
Jordan came fourth regionally, following the United Arab Emirates (24th), Israel (28th) and Qatar (ranked 31st).
The findings of the anti-graft perception index, which collects data from 13 sources, including evaluations of experts and the opinions of businesspeople, were released on Wednesday at a session organised by the Jordanian Integrity and Transparency Coalition "Rasheed".
Major shortcomings were related to investment measures and investors' feedback, said Rasheed Deputy Chairman Osama Azzam, who cited perceptions of increasing challenges facing investors and "requests for bribes".
In addition, the index reflected an increase in "petty corruption" among some public servants, according to Azzam, suggesting that corruption is no longer limited to those with influence and power.
The local evaluation included data from eight sources: the Global Insight Country Risk Ratings 2015, the World Justice Project Rule of Law Index 2016, the Political Risk Services International Country Risk Guide 2016, the Bertelsmann Foundation Transformation Index 2016, the Economist Intelligence Unit Country Risk Ratings 2016, the IMD World Competitiveness Yearbook 2016, the World Economic Forum Executive Opinion Survey 2016 and Varieties of Democracy 2016.
Over two-thirds of the 176 countries and territories in the 2016 index fall below the midpoint on the scale, with 0 meaning "highly corrupt" and 100 "very clean", according to Transparency International, which added that the global average score is 43.
While many countries witnessed a regression in performance, the Arab region in particular has witnessed a "remarkable" drop in performance.
According to the index, 90 per cent of Arab countries scored below 50, which is a failing grade.
The results indicate a connection between corruption and inequality, which feed off each other to create a vicious circle between corruption, unequal distribution of power in society and unequal distribution of wealth, according to the organisation's website.
Denmark and New Zealand topped the list, scoring 90 points, followed by Finland (89) and Sweden (88).
These countries have high degrees of government openness, freedom of the press, independence of the judiciary, civil freedoms, freedom of expression and the right to access information.
On the other hand, Somalia (10), Sudan (11) and North Korea (12) were at the bottom of the list.
Jamal Salah, a Rasheed board member, presented some of the coalition's recommendations, which included supporting anti-graft efforts and institutions, raising further awareness among citizens on corruption-related violations, as well as encouraging reporting them.
In addition, Rasheed urged public agencies to commit to implementing and following up on the recommendations of the annual report of the Jordan Integrity and Anti-Corruption Commission.
In addition to partnering with civil society, anti-graft entities were asked to restore illegally squandered funds and to allow citizens more access to information on public issues.
Related Articles
Feb 06,2016
AMMAN — Jordan should seize the opportunity of its improved performance in the Corruption Perceptions Index to push for applying better anti
Jan 28,2021
AMMAN — The Kingdom has maintained its ranking on the Transparency International's (TI) Corruption Perceptions Index (CPI) 2020 for the
Mar 17,2019
AMMAN — The Jordan Integrity and Anti-Corruption Commission (JIACC) retrieved JD22,562,170 between 2013 and 2018, including retrievals and s