You are here
'Jordan allowing vulnerable Syrians in from berm'
Momani says what is happening in Aleppo is a 'war crime'
By Khetam Malkawi - Dec 08,2016 - Last updated at Dec 08,2016
AMMAN — The Kingdom only allows the entry of humanitarian cases of displaced Syrians stranded in the berm area, the no-man's- land between the Jordanian and Syrian borders, a top official said on Thursday.
Minister of State for Media Affairs and Government Spokesperson Mohammad Momani told reporters that in coordination with the UN and international agencies, authorities allow the entry of those who need urgent medical care and humanitarian assistance from the berm.
At a press conference, held at the Prime Ministry, Momani noted that Jordan has been shouldering a huge burden but "we do not hesitate" when it comes to humanitarian cases.
However, he stressed that the country's security is above all other considerations and "our borders will remain a sealed military zone", a status that has prevailed since June, when a car bomb attack that targeted a forward military post serving refugees near the border killed seven personnel and injured 13 others.
The minister added that, in coordination with the UN agencies, an agreement has been reached on creating distribution points inside Syria to distribute aid to more than 75,000 Syrians stranded in Rakban.
"Water and medicine" are being delivered without interruption, according to the spokesperson.
As for the international assistance to Jordan to shoulder the burden of the Syrian refugee crisis, the minister did not elaborate on what the Kingdom has received from donors for the year 2016. However, he stressed that supporting Jordan is a way to support regional and international stability.
"What happens in Syria is an international issue," Momani said.
Turning to the current situation in Aleppo, the spokesperson described it as a "crime against humanity", noting that there should be an end to the conflict for the benefit of the civilians in Aleppo.
Related Articles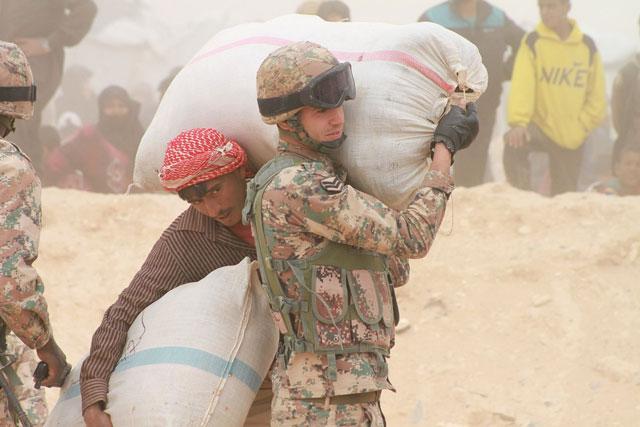 Oct 09,2016
AMMAN — Based on recent developments and upon further discussions with international agencies, Jordan will allow the delivery of aid to the
Jul 03,2016
AMMAN — Jordan on Saturday rejected any attempts to question its credentials when it comes to its response to Syrian refugees and called upo
Jan 10,2018
AMMAN — The UN has resumed aid delivery to an estimated 50,000 Syrians (10,000 families) who remain stranded at Rukban, near Jordan's northe
Newsletter
Get top stories and blog posts emailed to you each day.