You are here
Jordan's custodianship of Al Aqsa 'in danger', officials warn
By Taylor Luck - Apr 28,2014 - Last updated at Apr 28,2014
AMMAN — Jordan's historic custodianship of Al Aqsa Mosque is facing renewed legal and political threats by Israeli attempts to assume control over the holy site, officials and religious leaders warned on Monday, calling for increased funds to preserve Arab and Islamic heritage in the city of Jerusalem.
At the opening of an international conference on Jerusalem, held under the patronage of His Majesty King Abdullah and attended by HRH Prince Ghazi on Monday, Jordanian and Palestinian officials warned that Amman's historic role as guardian of Islamic and Christian holy sites in Jerusalem faces its greatest challenge in decades.
"Every day there is a new motion in the Israeli Knesset attempting to subvert Jordanian authority over Al Aqsa and place it under Israeli control," Palestinian Minister for Jerusalem Affairs Adnan Husseini said in reference to a two-month Israeli parliamentary motion at the opening of the "Road to Jerusalem" conference in Amman on Monday.
"There is a very clear strategy by the Israeli government and extremist Israeli groups to end the Jordanian and Palestinian role in Jerusalem and Al Aqsa Mosque and place it entirely under their control."
Palestinian officials warned that attempts to end Jordan's legally recognised role as custodian of the holy site have been accelerated by renewed pressures of right-wing political movements, which have launched a series of protests and increased attempts to storm the holy site, which they claim as the location of the Temple Mount.
"Extremist groups and politicians are now forcing their way into Al Aqsa and Al Haram Al Sharif every day to claim the site as theirs and to create a prayer area within the mosque," said Azzam Khatib, head of the Jerusalem Awqaf Department, which functions under Jordan's Ministry of Awqaf and Islamic Affairs.
Palestinian officials called for an urgent "fund drive" among Arab and Islamic states in order to support local residents in Jerusalem and fund efforts to protect and safeguard Islamic holy sites in the occupied city.
"There are large budgets allocated by Israeli authorities to Judaise Jerusalem and alter its culture and heritage," cautioned Mahmoud Al Habbash, Palestinian awqaf minister.
During the international conference, which attracted senior clerics and ministers from across the Arab and Islamic worlds, Minister of Awqaf and Islamic Affairs Hayel Dawood pledged Jordan's ongoing commitment to preserving and protecting Islamic and Christian holy sites in Jerusalem, a role enshrined in the country's peace treaty with Israel and reinforced in a bilateral agreement with the Palestinian Authority sealed in March 2013.
"Our responsibility towards Al Aqsa Mosque and the Palestinian cause is deep... a core responsibility that has been carried by the Hashemite monarchy in its long history," Dawood said.
Dawood called on Arab and Islamic states to step up political pressure on international institutions such as the UN and Western states to bring an end to alleged Israeli violations at Al Aqsa and other Islamic holy sites in the occupied territories.
Monday's conference comes amid a recent flare-up of violence at the holy site and the arrest of dozens of Palestinian civilians as hard-line Israeli groups continue to storm the holy site in a bid to draw attention to their campaign to open the site to Jewish prayers and even annex what they claim as the foundation of the so-called Third Temple.
Jordan has called for UN Security Council action to bring an end to various violations allegedly committed by Israeli authorities at the holy site, in violation of the peace treaty with Tel Aviv, along with various international laws and conventions.
Arab and Islamic scholars and politicians are expected to continue discussing the fate of Jerusalem and Al Aqsa Mosque during the three-day conference, sponsored by the Parliament's Palestine Committee and the World Islamic Sciences and Education University.
Related Articles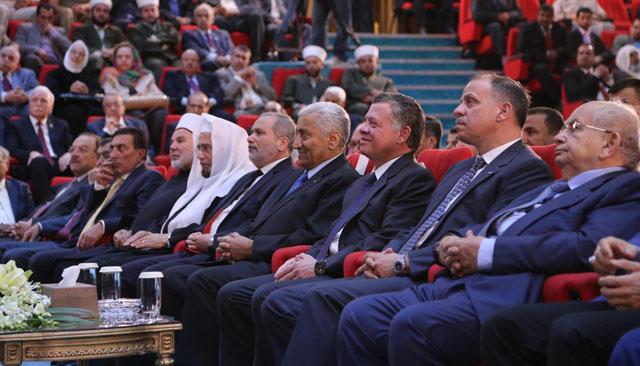 May 26,2014
His Majesty King Abdullah on Monday attended a ceremony marking the anniversary of Al Israa wal Miraj, Prophet Mohammad's nocturnal journey from Mecca to Jerusalem and his ascension to heaven according to Muslim beliefs.
Mar 24,2014
The Israeli occupation is obstructing progress of the Kingdom's 13 maintenance projects at Al Aqsa Mosque complex, according to Awqaf Minister Hayel Dawood.
Mar 16,2015
Awqaf Minster Hayel Dawood on Monday denounced daily attempts by Zionist and Jewish extremists to desecrate Al Aqsa Mosque.
Newsletter
Get top stories and blog posts emailed to you each day.